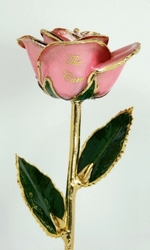 If we can put a man on the moon, or build an atom smashing accelerator to find a Higgs Boson particle, we can surely create the will and resources to end the ravages of cancer. The time is now to have that happen. We have taken a stand to end cancer as a health threat in our lifetime, and 'The Cure' Rose is an icon that symbolizes the hope and faith that we will succeed
Winfield, IL (PRWEB) March 13, 2009
A special new rose "The Cure" has been created by http://www.Loveisarose.com to support the movement to end cancer. With every purchase of this Cancer Contribution Rose, $25 will be donated to the cancer organization of the customer's choice.
The Cancer Contribution Rose is a real, preserved pink rose trimmed in 24kt gold or platinum and the words "The Cure" are imprinted on the delicate flower petal. Optional imprints are available including "I am a Survivor" and "Be Inspired." "The pink rose is a symbol of grace and elegance, and is often given as an expression of admiration and appreciation. The pink "Cure" Rose represents that and more - faith in a cure," stated Sid Fey, CEO of Sid Fey Designs, Inc., home of http://www.Loveisarose.com.
The roses arrive embraced in folds of silken fabric in a special remembrance gift box and can be ordered with an optional imported, cut crystal vase. These custom, personalized, hand-imprinted roses offer beauty, inspiration and hope for those challenged by this devastating disease.
"My family and I have personally been touched by this deadly disease and we join others in the commitment to creating a cure," added Fey. "If we can put a man on the moon, or build an atom smashing accelerator to find a Higgs Boson particle, we can surely create the will and resources to end the ravages of cancer. The time is now to have that happen. We have taken a stand to end cancer as a health threat in our lifetime, and 'The Cure' Rose is an icon that symbolizes the hope and faith that we will succeed," expressed Fey.
Organizations currently listed at http://www.Loveisarose.com as choices for donations are: Breast Cancer Fund, Breast Cancer Research Foundation, Cancer Care, Cancer Research Institute, CureSearch/National, Childhood Cancer Foundation, Memorial Sloan-Kettering Cancer Center, Multiple Myeloma Research Foundation, National Breast Cancer Coalition Fund, Prevent Cancer Foundation, St. Jude Children's Research Hospital (ALSAC), Susan G. Komen for the Cure, Avon Foundation Breast Cancer Crusade, and Children's Oncology Services, Inc. Customers may also add a cancer organization or charity of their choice when purchasing "The Cure" Rose.
Sid Fey Designs, Inc. showcases unique gift products that celebrate relationship, love, and family and are marketed throughout the world. Sid Fey is a creative product developer, author, and has been a successful entrepreneur in both the retail and manufacturing sector for over 40 years.
Contact:
Sid or Kathy Fey
630-668-6607
http://www.loveisarose.com
###