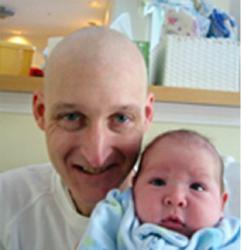 True strength pushes vanity aside. Cancer fighters demonstrate this every day. We can surely do it for just one.
Boston, MA (PRWEB) May 31, 2012
What started as a local fundraising event has taken the country by storm, with thousands of individuals wearing bald caps for one day to honor cancer fighters and raise money to help them fight back.
While there are hundreds of cancer fundraisers for people to show their support, only few of them truly show solidarity and encourage conversation like Be Bold, Be Bald! does. Participants in the event simply wear a nylon, skin-toned bald cap for one day to honor those who battle the disease, and get sponsored for doing so. Anyone can participate from anywhere in the world - no physical training, no days off from work and no shaving heads necessary (although many do so). This year, the event is scheduled for November 2.
The annual event, and associated 501c3 organization (Small Army for a Cause), was founded by Boston advertising agency, Small Army, after losing their co-founder, Mike Connell, to a 2-year battle with the disease.
"Watching Mike fight cancer was one of the most humbling experiences of my life," states Jeff Freedman, co-founder of Small Army. "Although his physical appearance made him look weak, he was among the strongest people in the world to fight as hard as he did. We wanted to honor that strength and beauty in a meaningful way."
In an effort to help demonstrate the true strength of people like Mike, Small Army came up with the idea to have people wear bald caps for a full day to honor those who fight the disease, raise money for cancer organizations, and encourage conversations about the disease. People simply sign up to participate, choose the charity for which they'd like to raise money and encourage their friends to either join or sponsor them.
"Wearing a bald cap on the train, getting my coffee at Starbucks and picking up my kids from school was such a moving experience," states Allison Reilly, a participant in the 2011 event. "People stare and don't know what to say. It is an uncomfortable feeling, but one that many do not have a choice about. I had so many great conversations that day, and I look forward to doing it again in November."
To date, the event has raised close to $500,000, with individuals and teams participating from Boston to Alaska. The organization recently made grants totaling $140,000 to the 2011 event beneficiaries, each of which received at least 100% of the funds raised for for them through the event. A complete list of 2011 beneficiaries, including national and local organizations such as LIVESTRONG, Dana Farber Cancer Institute, Aimee's Army, No Stomach for Cancer, Facing Cancer Together and Heaps of Hope, are posted on the Be Bold, Be Bald! website. The organization is now accepting applications on its website for additional beneficiaries for the 2012 event.
Gail Bork, Executive Director of Facing Cancer Together proudly explains, "We are excited to have been chosen by Small Army for a Cause as a grant recipient of their Be Bold, Be Bald event. The funds will significantly benefit FCT's mission to provide support, wellness and educational services to all people affected by cancer, regardless of their capacity to pay."
The 2012 event is scheduled for November 2. A new website is launching in July, where participants will be able sign up, create personal fundraising pages, start and join teams, order bald caps and merchandise, learn about beneficiaries and spread the word. In the meantime, beginning June 4, individuals interested in participating can pre-register for the event at http://beboldbebald.org to receive a 10% discount on merchandise as soon as the new site is launched. The organization also posts regular updates to its Facebook page.
Be Bold, Be Bald! is managed by Small Army for a Cause, a 501c3 non-profit organization committed to helping raise awareness and funds for medical-related causes. Small Army for a Cause was founded in 2008 by Boston Advertising Agency, Small Army, in honor of its co-founder, Mike Connell, a 2-time cancer survivor who lost his third battle against the disease in November 2007. The 2012 Be Bold, Be Bald! event is scheduled for November 2.