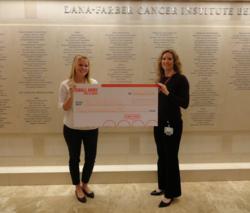 Cancer organizations of all sizes can join together to make a difference and help one another.
Boston, MA (PRWEB) June 30, 2012
Today, Small Army for a Cause opened an invitation to all cancer-related 501c3 organizations in good standing with the IRS to benefit from its 4th annual fundraiser, Be Bold, Be Bald! – a nationwide event on November 2nd, where participants wear a bald cap all day to honor cancer patients and raise money for cancer related charities.
To date, the organization has raised close to $500,000, with more than 4,000 participants across the United States, many as part of student, corporate or organization teams. Last year, more than 25 cancer charities benefited from the event. Beneficiaries included local and national organizations such as The Jimmy Fund, The Lance Armstrong Foundation, The Prostate Cancer Foundation, Heaps of Hope, No Stomach for Cancer, Jeffrey's Voice, The Pablove Foundation, UCLA Jonsson Cancer Center and Aimee's Army.
"Be Bold, Be Bald! is an opportunity for all cancer organizations – large and small – to join together for one day to honor those that they are fighting for, and raise money for their organizations," states Jeff Freedman, founder of Small Army for A Cause. "We are honored to be able to help so many great organizations accomplish their unique missions."
Unlike most fundraisers that are limited by physical requirements, time constraints, or geographical borders, participants in Be Bold, Be Bold! simply wear a bald cap for an entire day to honor cancer patients, and raise money for their act. It's not a physical challenge; it's vanity challenge – one that many cancer patients do not have a choice about.
Any cancer-related 501c3 organization can request participation by completing the beneficiary form on the event website. All accepted organizations will be added as a beneficiary on the Be Bold, Be Bald! website and provided with a variety of offline and online marketing tools to promote the event to their communities, including a personalized beneficiary web page. Beneficiaries need only spread the word among their communities to request participation on their behalf. There is no cost for beneficiaries to participate and at least 80% of all funds raised for each beneficiary will be granted to them. In 2010 and 2011, all beneficiaries received more than 100% of funds raised for their charity.
The founding organization, Small Army for a Cause, manages all event logistics, including the creation and management of all marketing materials, the event website, online fundraising tools, donation management, and participant fulfillment/communication.
Consumer registration for Be Bold, Be Bald! will open in mid-July. All registered participants will receive access to a full range of fundraising tools, including a personalized web page to solicit and accept donations. Personalized web pages will also display a message from the participant, fundraising statistics, team affiliation (if on a team) and beneficiary for which they are raising funds (selected upon registering for the event). Bald caps and other accessories will also be available for sale on the website. Interested participants can pre-register today to receive a 10% discount in the online store and be immediately notified when registration officially opens.
Be Bold, Be Bald! is managed by Small Army for a Cause, a 501c3 organization committed to helping raise awareness and funds for medical-related causes. Small Army for a Cause was founded in 2008 by Boston Advertising Agency, Small Army, in honor of its co-founder, Mike Connell, a 2-time cancer survivor who lost his third battle against the disease in November 2007.