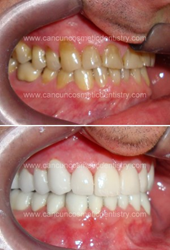 Save Up to 70% in all dental treatments, compared to your home dentist in the U.S. or Canada!
New York, NY (PRWEB) January 26, 2011
Located in the heart of the Mexican Caribbean there is a dental clinic focused and specially designed for American and Canadian patients: Cancun Cosmetic Dentistry, which is celebrating 10 years of providing quality dental care for thousands of Americans.
The popularity and exponential growth rates of Dental tourism is a relatively new concept and the practice of traveling abroad to have Dental Treatments performed today is more about saving money and time but not wanting to sacrifice quality and high standards. There are currently 14 countries catering to medical tourists, providing care to more than 3 million foreign patients annually. Why dental tourism is becoming a need? Simply because the costs of Dentistry in another country can be as much as 70% less than at home in the United States and Canada.
The high costs of dentistry prices in the United States (which thousands of Americans are not able to afford, and taking in consideration that millions are uninsured) drives people to look somewhere else for their dental needs. This is when they start looking for a dentist abroad, and Cancun is one of the top destinations for Mexican dental vacations.
When looking for a dentist in Mexico or anywhere else, it is important to consider price, professionalism, warranty, experience and credentials. Most Mexican Dental clinics hold all credentials, but just a few have all the expertise and experience to be at the same level of the best American dentists.
Their English spoken team of Mexican Dentist have been helping American people over the past ten years with any type of dentistry treatments, from a simple resin filling to a Complete Smile Makeover. Rapidly becoming the leaders in dental tourism in Mexico while they receive between thirty to forty American and Canadian citizens every month seeking affordable dental work in Mexico.
Cancun is a great option since studies show that patients recover much more quickly in an environment they appreciate, and this might give you an opportunity to see new places of wonder or just relaxing on the beach all of this as well as saving money on much needed dental work.
###