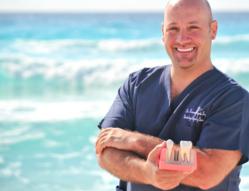 As leaders in dental tourism in Mexico, Dr. German Arzate and his practice fit perfectly in Newsweek's Nationwide Leaders in Dentistry Showcase.
Cancun, Mexico (PRWEB) July 25, 2012
As leaders in dental tourism in Mexico, Dr. German Arzate and his practice fit perfectly in Newsweek's Nationwide Leaders in Dentistry Showcase. Every year, they serve hundreds of Canadians and Americans seeking affordable treatment while vacationing on the sunny beaches of Cancun. Dentists in Mexico can provide the same level of quality and safety that American dentists can, but at significantly lower prices, making them an excellent alternative for those willing to make the trip. The clinic imports all materials from the United States, Japan, and Germany.
Every year, more and more North Americans find themselves without oral health insurance and unable to afford the oral care they need. Dental tourism is becoming a popular way for many to get services like implant, cosmetic, and general dentistry at cut rate prices.
According to a report from the Institute of Medicine (IOM), millions of Americans fail to get the basic dental care they need. In the US, there are barriers to receiving quality private oral health coverage, and many simply cannot afford the treatment they need without help from an insurance provider.
The report states that, in 2007, the average annual cost of oral health care for Americans was $600. While dental insurance can help alleviate some of the burden, many who do have coverage still cannot afford costly procedures like implants. According to the IOM, people with insurance still end up paying about 30 percent of their total dental costs, on average.
At Cancun Cosmetic Dentistry, Dr. German Arzate and his associates go above and beyond to make sure the care they offer is affordable for all, without sacrificing quality. They comply with the strictest standards of sterilization and hygiene, and all their dental services come with guaranteed satisfaction. Cancun Cosmetic Dentistry only uses filtered water and guarantees their visitors a clean, disinfected environment.
With 22 years of experience, including nine years of implant and other cosmetic dentistry experience as well as advanced cosmetic rehabilitations, Dr. Arzate is a safe, reliable alternative for any North Americans and Canadians looking for a dentist in Cancun.
He receives continuous training from seminars and conferences offered in the United States by the American Academy of Cosmetic Dentistry (AACD) and the American Academy of Implant Dentistry (AAID). Dr. Arzate is a member of the AACD, the AAID, and the American Dental Association (ADA).
With a fully trained staff that is fluent in English, quality tools and materials, and experience with advanced care, Dr. German Arzate and his clinic, Cancun Cosmetic Dentistry, truly are leaders in their field.
About Dr. German Arzate
German Arzate DDS MS is the founder of Cancun Cosmetic Dentistry, a specialized clinic located in the heart of Cancun. As leaders in dental tourism in Mexico, each year they receive hundreds of Canadian and American patients seeking first class dental work at affordable prices. He is specialized in a number of treatments, including maxillofacial prosthodontics, oral and maxillofacial surgery, bone regeneration and maxillary growth, orthodontics, and restorative dentistry. He is also a well-known sculpture artist in marble and wood, a hobby he has since early years.