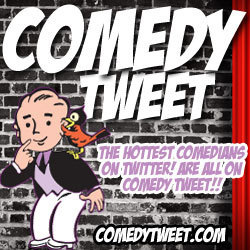 Twitter has changed everything...six months ago the word
Las Vegas, NV (PRWEB) July 1, 2009
PhotoVision Enterprises LLC announced today the official launch of ComedyTweet.com. Comedy Tweet, integrated with the micro-blogging web tool Twitter, aggregates in real-time the regular and the sometimes bizare daily goings on of high profile comedians including Jimmy Fallon (@jimmyfallon), Rainn Wilson (@rainnwilson), Dane Cook (@danecook), Sarah Silverman (@SarahKSilverman), Carrot Top (@carrot_top), Penn Jillette (@pennjillette) and almost 200 more. All the funniest comedians, all the funniest tweets and all the funniest photos on Twitter all in one place - ComedyTweet.com!
"Twitter has changed everything...six months ago the word "Twit" had an entirely different meaning...Now, we get our news from Twitter, we talk to our friends on Twitter - and most importantly we stalk celebrities on Twitter", quips Peter Housley (@phousley) President/CEO. "Twitter is at its core a social tool and nothing is more social than laughing. Through Twitter some of the world's funniest comedians have gathered in a unique forum and it's tremendously entertaining. There are funny jokes, event calendars and some deep personal insights - and if you want to know what kind of coffee Penn Jillette drinks you're in luck -- all in 140 characters."
A consulting member of the ComedyTweet.com team is Emmy Award-Winning writer, veteran standup comedian and the producer of Sin City Comedy Show in Las Vegas (sincitycomedy.com) John Padon (@johnpadon) who admittedly only recently joined Twitter. "I love ComedyTweet its like hanging backstage with a bunch of great comics, and the opener was locked out", says Padon.
ComedyTweet.com operates on a software application called CandidTweet (candidtweet.com), developed by PhotoVision Enterprises, which makes use of the extensive Application Programming Interface provided by Twitter. It is integrated with two photo sharing tools TwitPic.com and Yfrog.com; offering integrated photos within individual Tweets, as well as a "Photos Only" view. The CandidTweet engine was first developed and used to operate the award-winning site PornStarTweet.com that aggregates the daily lives of more than 400 Porn Stars on Twitter.
ComedyTweet currently follows the daily activities through Twiiter messages (aka Tweets) of 192 comedians around the world, who tweet an average of 1000 messages and 30 pictures daily. In Beta for less than 30 days Comedy Tweet has an already impressive 38,000 tweets in its database. Comedy Tweet also operates fan pages on Facebook and MySpace.
"We're all watching Jon Stewart on 'The Daily Show', CNN, Fox News and every major media outlet talk about the use of Twitter, it's awesome to see a great piece of technology allow us to communicate with Comedians and Congress at the same time. Every time you visit Comedy Tweet there is something new to entertain you."
Some Quotables from Comedy Tweet:
Steve Agee (@steveagee) "Today I decided to listen to Cake rather than eat it."
Paul Feig (@paulfeig) "I still want pancakes. And a martini. Is the International House of Pancakes and Martinis still open? If not, I'm opening one. In my home."
Mike Robles (@mikeroblescomic) "Its sooo Hot I visited my mother n law just for the cold shoulder!"
Stu Baker (@stubakercomedy) "Follow @comedytweet and check out ComedyTweet.com It's like Comedy Central for Twitter..."
Al Yankovic (@alyankovic) "Sorry, but my feelings about the MJ tragedy cannot be adequately articulated in 140 characters."
Eddie Izzard (@eddieizzard) "I am at Wimbledon sitting next to Noel Fielding from The Mighty Boosh. He is now twittering @noelfielding11 Do follow him and he will tweet"
Comedy Tweet is available now on Comedy Tweet, and can also be followed on Twitter @comedytweet or Comedy Tweet on Twitter. RSS feeds, web widgets, and mobile applications are in development. CandidTweet software application is available for licensing visit CandidTweet for more information.
Twitter and Twitter.com web site a service of Twitter, Inc., copyright and trademark.
###