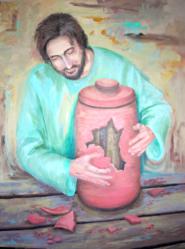 Jesus is who He says He is, He will do what He says He will do, and He has the power to do it.
Castle Rock, Colorado (PRWEB) July 27, 2011
Artistic Impact Publishing, the Christian Art of Candis Kloverstrom illustrates her belief faith is about relationship with God that creates hope. She is releasing the publication of her latest artwork, "El Shaddai." This is an acrylic painting of Jesus and His mission as a God of mercy and grace who restores people and relationships. The artwork, "El Shaddai," is now available at http://www.ArtisticImpactPublishing.com through prints and giclee canvas reproductions.
Candis Kloverstrom also worked with relationship dynamics through brand development, design, and illustration. It was creating work that connected to target markets through understanding needs that made a difference. It is that connection that makes a difference in today's world. And, it starts with a relationship with Jesus; Jesus cuts across cultural barriers and generational differences.
Though younger generations are leaving the church in mass, she agrees with those such as Drew Dyck, author of Generation Ex-Christian who writes, "I believe that there's a deep-seated longing for God, even for those who deny his existence. I've learned to start hearing skepticism as the language of spiritual longing." That is also why "El Shaddai" was created.
Relationship with God also flows into other areas of life such as marriage. "But the more you are involved in the actual practice of your faith in real ways-through submitting yourself to a serious body of believers, learning regularly from scripture, being in communion with God through prayer individually and with your spouse and children, and having friends and family around us who challenge us to take our marriage's seriously—the greater difference this makes in strengthening both the quality and longevity of our marriages." according to Glenn T. Stanton, Focus on the Family Insights.
Mr Stanton went on to say that faith does matter and the leading sociologist of family and religion tell us so. Latest statistics also show those with a deeper faith are 35% less likely to divorce.
Jesus rubbed elbows with sinners, the lost, and social outcasts. He even went into the synagogue driving out the money changers. So, when the conversation comes around to revitalizing today's church, "El Shaddai," by Candis Kloverstrom illustrates Jesus is still in the restoration business.
As a 32 year Christian veteran she adheres to the Judeo/Christian fundamentals that God is who He says He is and has a plan for each person, and the power to carry that out. She expresses these truths through artwork, blogs, booklets, and videos. For more information on her latest artwork, "El Shaddai," please visit http://www.artisticimpactpublishing.com.
About Artistic Impact Publishing
Artistic Impact Publishing, LLC, since 2001, published works such as "Denver Men in the Kitchen," featuring men such as Governor John Hickenlooper, MIX 100 anchor-man Dom Testa, and Denver Business Journal President Scott Bemis. This book went beyond the business suits into their personal lives creating a more accurate picture of today's successful Denver guy.
Today Artistic Impact Publishing creates Christian Art and materials to edify and encourage the body of Christ in their endeavor to live out their faith. Reaching the lost is a mainstay of the Christian faith where God's love is the magic ingredient that changes lives.
###