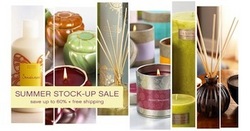 Illume customers are incredibly loyal to our fragrances
Minneapolis, MN (PRWEB) June 23, 2010
Illume is offering up to 60% off selected products during its Summer Stock-up Sale, along with free shipping, at IllumeCandles.com. The Summer Stock-Up Sale features a variety of recently retired fragrances, including some customer favorites, in candles, diffusers, lotions and more.
The sale, ending June 30, also includes free shipping on orders of $100 or more making it the ideal time to buy for summer or even stock up for fall and winter holiday gifts.
"Illume customers are incredibly loyal to our fragrances," shares Leslie Hammer Brindley, marketing manager at Illume. "We're so happy to have the opportunity to share wonderful discounts on these retiring fragrances and give our customers the chance to stock up!"
The Summer Stock-up Sale is only available from Illume, online at: http://www.illumecandles.com/Category/summertime-sale.cfm, and only until June 30 or until supplies run out. Several categories of candles are available (metallic tins, jars, pillars, votives, ceramics, reed diffusers) in several popular fragrances including Cucumber, Sealily, Coriander & Pomelo, Papaya and Wild Poppy.
Illume is also offering additional discounts for users who sign up to receive Illume's Weekly Email featuring news, announcements and exclusive promotions. For a limited time, all new subscribers will receive 30% off their next order at IllumeCandles.com. Users can sign up for the email on Illume's home page.
"Our weekly emails are the best way to find out about our latest fragrances, new products and exclusive promotions," comments Hammer Brindley. "Our goal is to offer our customers fabulous fragrance designed to complement their homes and lives."
About Illume
Illume is known for its vibrant home fragrances which have a loyal celebrity following including Madonna, Will Smith, Charlize Theron, Colin Farrell and Christina Aguilera. Illume candles are crafted from an exclusive 100% natural soy wax blend with essential oils and can be found online at http://www.illumecandles.com and in more than 4,500 specialty retail and department stores internationally.
# # #