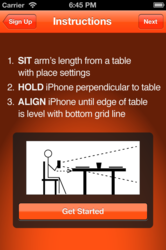 (PRWEB) March 29, 2012
Candle Lamp, the Nation's leading provider of table top lighting for Restaurants and Hotels, today announced the release of MyLamp Pro, a new mobile application for iPhone and iPad2 devices.
The MyLamp Pro mobile app from Candle Lamp allows Food Service professionals to preview and select the perfect ambiance lighting for their establishment. You start by taking a picture with your iPhone or iPad2 of an actual table setting in your establishment. After taking the picture, the MyLamp Pro app allows you to place a lamp of your choice on the photographed table setting. The end result is a picture of your table setting with a table lamp on it. You are able to preview over a hundred different lamp styles to see how they will look in your establishment.
"We continuously search for practical ideas that marry cutting edge technology with our customer base, ideas that make doing business together easier. The obvious benefits of a mobile app like MyLamp Pro crystallized after talking with end users during restaurant visits and following discussions with sales personnel", says Mike Pacharis, Vice President Marketing at Candle Lamp.
"Our customers carefully choose their table-top lighting because it plays a critical role in dining mood and customer experience. Before this mobile app, a catalog picture was the standard method used to select a table lamp. Even if the sales rep carries lamp samples to preview, the selection is limited. Now someone can see how any lamp looks, with just the click of a button", says Craig Carnes, Vice President Sales at Candle Lamp.
The MyLamp Pro app allows the user to save their pictures to a gallery for future reference, or they can email the picture to someone. For example, the picture could be emailed directly to Candle Lamp or a local Food Service Distributor sales person for further inquiry and follow up.
"As with our other innovations, we have not allowed a slow economy to prevent us from staying focused on developing problem solving solutions. Also, our innovation scope extends beyond new products. The importance of table lighting coupled with the increasing popularity of smart phones and tablets make this table-top technology very practical and useful", says Don Hinshaw, President and CEO of Candle Lamp.
Promotions and discounts will also be available on the mobile app.
Those who wish to use the MyLamp Pro mobile app just need to download it (free of charge) from the app store. (Click here to download now)
About Candle Lamp
Recognized for genuine caring backed by the experience and insight that customers trust, Candle Lamp has been passionately dedicated to being the most trusted provider of innovative heat and light solutions to the foodservice industry.
With extraordinary customer service and unrivaled value, the Candle Lamp name has been synonymous with quality and consistency for over thirty years.
For more information, contact Mike Pacharis, Vice President Marketing, Candle Lamp Company, LLC, 1815 Rustin Ave., Riverside, CA 92507, USA. Toll Free: 877/LAMPS-4-U (877/526-7748). Fax: 909/784-5801. http://www.candlelamp.com