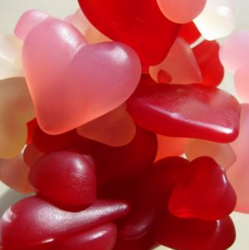 Los Angeles, CA (PRWEB) February 27, 2013
Inspired by an online article in Comet24
detailing an entrepreneur's burgeoning business venture, Do the Bride a Favor has reached a conclusion regarding the utility of portable candy carts for weddings. The DtBaF editor is particularly swayed by the significant savings of time and money available to wedding planners who are looking to dispense sweets but without opting for a candy buffet or the dispensing of personalized bridal chocolate.
As described in the Comet24 article, the female entrepreneur, a full time British receptionist, got the idea for her business while attending a wedding fair prior to her daughter's ceremony. Seeing a candy cart at the fair prompted her research, during which she discovered an untapped market still available to be exploited. Do the Bride a Favor is intrigued by the simplicity and functionality of the British receptionist's business model which is halfway between vending candy and a full-on buffet, offering pic n mix sweets, as well as a uniformed staff member manning the cart.
DtBaF sees the potential for a trend-in-the-making given the popularity of food carts in general which should transfer nicely to the arena of weddings. Do the Bride a Favor notes the portion of the Comet24 article describing the intense interest in her business generated by the British entrepreneur's launch at a wedding show in Knebworth Park, UK. "I got a lot of compliments, and a lot of people said they would be in touch," the entrepreneur said. Do the Bride a Favor surmises that this budding businesswoman has found a true niche, and could well be on her way to a very successful business venture, possibly enabling her to quit her receptionist's job.
Do the Bride a Favor sees the simplicity, applicability and functionality of portable candy carts for weddings as a trend to watch for planners as well as would be business owners and entrepreneurs in the coming year and beyond.
About Do the Bride a Favor:
Do the Bride a Favor gives tips and advice to those connected to the wedding industry, and anyone interested in dispensing unique wedding favors, or getting into the candy business. Using research and trend watching, Do the Bride a Favor's goal is to think outside the box when it comes to wedding ceremonies, and favors.