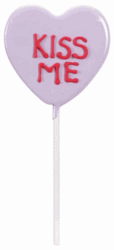 . And, each pop is wrapped in cellophane and tied off at the base with a satin ribbon
Irwindale, CA (PRWEB) January 2, 2008 -
Valentine's Day is fast approaching and its time to stock up on your favorite candy hearts. CandyWarehouse.com has all the classic valentine heart candy and is announcing some new offerings this year. Try some Romantic Message Heart Lollipops for enjoyment or decorating or maybe an alternative to help escape the dog house would be some Puppy Love Dog Bone Candy with sayings like "I Ruff You."
Remember those fun childhood days of sweet candy hearts? You know what I'm talkin' about. That first Valentine's Day candy you can remember holding…. the cardboard box you rattled in your hand and watched the little hearts tumble around behind the clear cellophane window. Now those baby candy hearts are all grown up and they've sprouted sticks to hold them by. Introducing Romantic Message Heart Lollipops in a fabulous assortment of pastel colors and phrases.
The assortment includes 6 colors: pastel yellow, lavender, pink, pastel green, peach, and pastel blue. "Messages include "KISS ME", "XO XO", "LOVE", and "HUG ME". And, each pop is wrapped in cellophane and tied off at the base with a satin ribbon" say Christopher Pratt, President of CandyWarehouse.com. "They make the perfect candy heart gift or romantic candy decoration for a special event like a Valentine's Day Party or Wedding," he further adds.
Another brand new item available at CandyWarehouse.com is the Puppy Love Dog Bone Candy Bowls. Each dog-bone-shaped hard candy sports phrases such as "I Ruff You", "Welcome Home", "Take Me Out", "I Dig U", and more. And they're packed in cute red dog bowls with "To: From:" tags. The perfect gift if you're in the proverbial dog house with someone you love. How can they resist?
And while you're shopping, don't forget to pick up all the classics at CandyWarehouse.com. Those NECCO candy hearts are now available in 4 types: Original, Chocolate, Tart, and Spanish Language candy hearts. Te Amo!
About Candy Warehouse
CandyWarehouse.com is an online bulk candy store that sells a wide variety of candy favorites. The candy super store has products arranged by category such as nostalgic & old time candy, by brand such as Willy Wonka, and by holidays like Valentine's Day candy or special occasions such as wedding candy. CandyWarehouse.com was named recently to the Inc5000 list as one of the fastest growing private companies in America. They have been serving loyal customers for 9 years with fresh candy shipped fast.
###