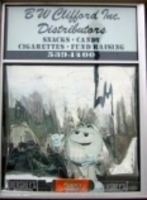 "Our goal is to become a one stop online candy store," says candy store manager Joel Bernstein. "Consumers that buy candy want more than just nostalgic candy bars and chewing gum. They want all the new flavors and tastes."
Morristown, NJ (PRWEB) May 12, 2010
BW Clifford proudly announces the expansion of their candy store, (http://www.bwcliffordcandy.com). BW Clifford specializes in wholesale candy, snacks chocolates and chewing gum. They are constantly upgrading their product offerings to stay current with customer demand for more candy choices.
Traditional nostalgic candy are popular sellers for BW Clifford, but with more consumers looking for alternative sweets such as sugar free gum, they started getting requests for different items. Their new and improved chewing gum section now includes a few hundred different chewing gum varieties and flavors, including Orbit Gum, Eclipse Gum, Extra Gum, 5 Gum and Trident Gum. Popular new flavors include wild blueberry, cool citrus, and mango peach.
BW Clifford Inc provides its customers with the highest quality candy, chewing gum, snacks and chocolates. Originally purchased by Dave and Rhoda Bernstein in 1935, BW Clifford Inc. is now in its third generation as a family owned and operated wholesale candy store. They are still located at their original location in Morristown, New Jersey. The company focuses on service and customer satisfaction. While the wholesale candy business is very competitive BW Clifford values their customers and looks to maintain long standing business relationships. They have an A+ rating with the Better Business Bureau showing the results of their customer appreciation.
BW Clifford Inc focuses on providing customers valuable and educational information through their Candy News Blog and candy education section of their website. The company provides detailed product information, recent news briefs and historical information about candy.
###