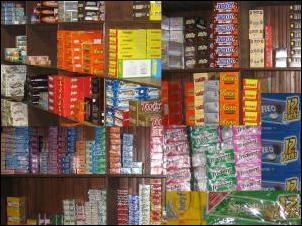 What is exciting is how the store has evolved over the years from when my grandfather and grandmother started the business to now where my parents and I are managing it
Morristown, NJ (PRWEB) July 16, 2007
BW Clifford Inc. is a family-owned, wholesale candy and snack distributor located in Morristown, NJ and has been in business for over 65 years. The business started at its current and original location in Morristown, NJ and is now pleased to announce the opening of its online candy store , CandyXpress.com.
"What is exciting is how the store has evolved over the years from when my grandfather and grandmother started the business to now where my parents and I are managing it," says CandyXpress.com owner Joel Bernstein. While the brick and mortar store is still the same they now have web exposure. The use of technology and the social media is helping a family owned candy store that was started in the early 1900s evolve and grow to suit the needs of the modern online candy buyer.
B.W. Clifford's warehouse has ten thousand square feet of storage space and is loaded with candy, snacks, chips, cookies, chewing gum and all sorts of confectionery products. Product is coming and going all day. The warehouse is climate controlled to assure freshness and product integrity. BW Clifford Inc. delivers to their local customers by truck and use UPS as the primary out of area shipper. They also ship via freight forwarder for larger in country and international orders.
The candy store provides a great selection of chocolate candy, mints, bulk candy, chewing gum, hard candy, and sweet candy. Some of their most popular products are Hershey Bars, Tic Tacs, Eclipse Gum and Wrigley Gum. They sell merchandise from major manufacturers such as Hershey, Lifesavers and Master Foods. The BW Clifford team is in their 3rd generation selling wholesale candy and snacks.
CandyXpress has many different client types selling to candy stores, vending routes, gift shops, sports leagues and many other customers. Providing candy to schools, charities and corporate events is one of BW Clifford's specialties. They support special events such as outings, TV shots, and weddings and even sell to the Barcelona Spain Baseball League. Prior to the online candy store the customer base was largely local to the store in northern New Jersey. Now they sell throughout the nation and are doing international work as well.
You can buy wholesale candy and snacks by the box, case, pallet or truckload. Pricing is based on volume. CandyXpress tries providing the best online candy shop value with their customers. So forget about the hassles of shopping in those large wholesale stores. Leave the driving, parking and lines behind and enjoy the ease of shopping at CandyXpress, the online candy store from your desktop.
Contact:
BW Clifford Inc.
Ron Bernstein CEO
Lila Bernstein Vice President of Human Resources
Joel Bernstein Vice President of Marketing and IT
90 Elm Street, Morristown NJ 07960
Office Number: 908 829-0007
Web Site: http://www.candyxpress.com
# # #