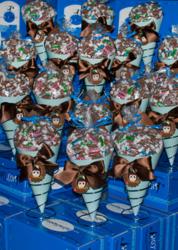 We create relationships with each one and they become part of the Big Dot Family.
~Sherri Yukel, Founder and General Manager
Menomonie, WI (PRWEB) October 05, 2011
Recognizing a need to honor VIP customers with an unexpected treat, Big Dot of Happiness, LLC, created more than 300 delicious candy bouquets and delivered one to each VIP doorstep. This unconventional act of customer appreciation is just the beginning of the Big Dot "Customer is the Boss" philosophy. "As designers of unique personalized party supplies and original party themes, we knew we had to do something extra special. Without our amazing customers, we wouldn't be who we are today," says Sherri Yukel, founder and general manager of all the Big Dot Shops.
Since its inception more than a decade ago, Big Dot of Happiness, LLC, has put their "Customer is the Boss" philosophy at the forefront of all business practices. Every customer experiences this core value from the minute an order is placed online or in person through an Expert Expert. Each Big Dot Shop also offers a concierge service to alter any existing baby shower, bridal shower or birthday party theme, guaranteeing everyone receives the party supplies desired. At the top of the "Customer is the Boss" philosophy stands the Big Dot employee pledge to never miss an event, ensuring they do everything in their power to make each party planner achieve Hostess Hero status.
Going above and beyond is a daily mantra for all Big Dot Expert Experts and shipping hand-crafted candy bouquets to VIP customers in celebration of Customer Appreciation Week was just another way for BigDotOfHappiness.com to say "thank you." "We listen to our customers. They know our names and remember who helped them year after year. One year they are planning a baby shower and the next, a first birthday party. We create relationships with each one and they become part of the Big Dot Family," says Yukel.
BigDotOfHappiness.com is already receiving a huge response as VIPs contact Expert Experts to express their surprise and gratitude. "You added a cherry on top of my already-great day," said Karen M., a Big Dot Hostess Hero. She goes on to explain how delighted her large family is with all of Big Dot of Happiness, LLC's personalized products, proving how a "Customer is the Boss" philosophy is effecting not only the host of the party, but every friend and family member in attendance as well.
About Big Dot of Happiness, LLC
Big Dot of Happiness, LLC, is an event party company and the originator of various games, invitations and themed party supply products called "Big Dot Originals." With personalized invitations, impressive party favors and unique party decorations, Big Dot of Happiness, LLC, makes everyday parties into extraordinary events. "We create remarkable smiles by embracing a remarkable culture."
Find Big Dot of Happiness on Facebook for inspiration and exclusive deals just for fans.
Contact:
PR Coordinator
Big Dot of Happiness, LLC
1.800.274.4282
http://www.bigdotofhappiness.com
###