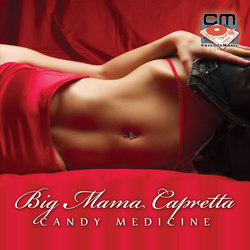 Los Angeles, CA (PRWEB) December 20, 2009
Shock waves are shaking the pillars of the Catholic Church as the world famous drag queen priest known as Big Mama Capretta resurfaces with yet another #1 selling hit single "Candy Medicine" following her recent Summer Top 20 U.S. Billboard Club Play Dance Chart hit "Big Mama's House". Big Mama Capretta has been blessing and distributing condoms to her flock at all Sunday Masses during the month of December. By day, Capretta is none other than Father Anthony (aka Vincent Capretta), a proud practicing Catholic priest from Columbus, Ohio. By night, Big Mama Capretta is a hilarious drag queen performing for her fans.
Big Mama came out of the closet in June 2009 in celebration of Gay Pride Month shouting "It's Big Mama y'all! I am living proof that a person can do anything they set their mind to. We have to love and enjoy ourselves in this world. And, I am enjoying my life being who I am and who God intended me to be! Now, let's dance y'all!'
The new hot track is too much fun and "it's all about having safe sex and using condoms--the condoms are candy medicine" says Big Mama. "The Church is wrong and selfish to discourage the use of condoms. The use of condoms is not sinful, but rather an outward demonstration of virtue, respect, and moral responsibility. God does not call upon individuals to live a life of sexual abstinence contrary to human nature and development. Humanity is morally obligated to help prevent the spread of HIV/AIDS by making condoms readily available to both sexually active adults and minors. Condoms cannot cure HIV/AIDS, but neither will naïve appeals for sexual abstinence."
"The success of Candy Medicine goes to show that people are supporting and understanding that condoms do help our communities in limiting the spread of sexually transmitted diseases."
Candy Medicine reached the #1 top selling spot on Masterbeat.com, a leading dance music retailer in the United States. Big Mama Capretta beat out such artists as Lady Gaga and Carol Hahn to achieve this honor.
Not only does Big Mama Capretta have another hit song, her fame has spread to millions of television viewers and radio listeners around the globe as media continues to scramble for a glimpse into her double life. Big Mama has appeared on NBC's "America's Got Talent"; CBS's "Insider"; Univision's "Primer Impacto" and in hundreds of international news publications as "El Mundo" (Spain) and "La Critica" (Panama). Now the whole world can also watch the video to her new hit single on YouTube: Watch __Candy Medicine__ Video
Capretta's infatuating new single and video is produced by international dance music producer Rod Carrillo and comes with an intense booty shaking and body stimulating remix package with the likes of Peter Brown (Enur,Pacha Records), Sted E & Hybrid Heights (Akon, Alex M.O.R.P.H., Armand Van Helden) and Rod Carrillo (Joanna Krupa, Kaci Battaglia, Crystal Waters, Rihanna, Donna Summer).
The new hot track and remixes are available at iTunes, Amazon and Masterbeat.com for purchase.
Make some more room on the dance floor y'all - Big Mama is back!
About Capretta
Capretta began his music career at the age of seven studying music theory and classical guitar at the renown Cleveland Music School Settlement. Winning radio talent contests at the age of twelve led Capretta to vocal scholarship in the Opera Department of the prominent Cleveland Institute of Music. In addition to serving as lead tenor for the Cleveland Civic Light Opera for two seasons, Capretta has held several leading roles in professional and community theater. Capretta was featured at the New Music Seminar in New York City in 1986 in response to his first music video 'Fallin Again'. In 1987, Capretta hit the national Eurobeat charts in the United States on LSA Records with his covers of the disco classics 'I Will Survive' and 'Turn the Beat Around' and again in 1990 with 'Never Knew Love Like This Before'. Capretta hit the European dance charts in 1992 on Loading Bay Records with his rendition of the classic 'It's My Party' and his featured on the Best of Loading Bay High Energy Volume I. Topping the Playboy Cable Channel Hot Rock's chart in 1993 with his #1 steamy music video 'Puerto Rican Sex', Capretta is also known for his successful music video 'Stormy Weather' on ETV and RockAmerica in 1996. Now Capretta resurfaces in 2009 on CM Records with the huge dance floor anthems 'Big Mama's House' and 'Candy Medicine' produced by International dance music producer Rod Carrillo.
For more information on Capretta please visit: http://www.myspace.com/caprettamusic
###