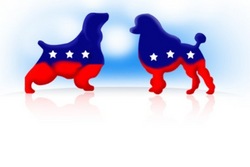 I'm tired of the candidates fighting like cats and dogs, and want to inject a little fun into politics as usual
San Francisco, CA (PRWEB) September 17, 2008
Now that Barack Obama and John McCain have selected their Vice Presidential running mates, it is time for America to vote for their top dog. The polls have opened at http://www.WhosYourTopDog.com, the official 2008 campaign site for the First Canine of the United States.
Ashley & Co, a company that designs paw print jewelry and gifts for pet lovers, sponsors the site. "I'm tired of the candidates fighting like cats and dogs, and want to inject a little fun into politics as usual," says Vanessa Wensing, Ashley & Co designer and founder. The website also encourages people to register to vote for the U.S. presidential election.
Here is what is known about the canine candidates:

John McCain brings Sam his English Springer Spaniel.
Barack Obama promises to add a dog to his family, and according to a poll by The American Kennel Club® (AKC) America has chosen the Poodle as his perfect canine running mate.
To help voters in selecting their top dog, the website site contains information about each breed's characteristics as well as their previous White House experience.
Place your vote online at http://www.WhosYourTopDog.com before October 20, 2008 and check back for the winner. Who will you put in the White House doghouse?
###