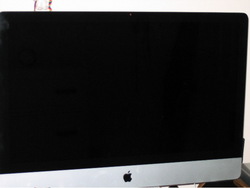 "No matter which instructions on that screen I followed," writes Sova, "I always ended up at the same place in the loop: the black screen of death."
Vancouver, BC, Canada (PRWEB) August 19, 2010
Vance Sova, a Vancouver area Internet marketer and business professional, recently purchased a brand new Apple iMac with the hopes of installing Windows 7. Unfortunately, he experienced a number of problems related to the installation process, describing the situation through a recent blog post.
"No matter which instructions on that screen I followed," writes Sova, "I always ended up at the same place in the loop: the black screen of death."
In the blog post, which can be accessed at VanceSova.com, the computer user describes how he contacted several employees both at official Apple Stores and at third-party resellers. By his own account, Sova was told that Windows 7 should be completely compatible with the new Mac computer and it should work with the Boot Camp software package.
However, every attempt at a successfully installation led him back to the "black screen of death," an error screen that prevents the computer from suffering additional damage. This error screen is typically irreconcilable and requires the user to restart the computer, fixing the issue in some other manner.
The blog post goes on to describe his poor experience with Apple Care advisors and how he ultimately solved the problem on his own. The article, since its original publication on August 13, 2010 and its subsequent updates on August 16 and August 17, has generated ten comments from the online community.
Apple has now published detailed instructions on its website related to the Windows 7 installation process on a new Mac computer. The solution requires the use of either a Secure Digital (SD) memory card or a USB external drive.
Vance Sova's blog post on his experience installing Windows 7 on a new Mac computer, as well as his experience with Apple Care professionals and other advisors, can be found at the following web address:
http://www.vancesova.com/should-you-buy-a-mac-if-you-also-need-windows-7-can-mac-be-pc.php
About Vance Sova
Vance Sova http://www.vancesova.com/ is an Internet marketing enthusiast based out of Vancouver, Canada. He is a fine member of the community wherever he happens to live and he has traveled to many destinations around the world. In addition to experiencing different cultures and working with the Internet, Sova is also an ongoing student of international languages, an experienced electronics technician, and a savvy business professional.
# # #