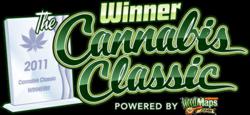 I was stunned when they called our name.
San Jose, CA (PRWEB) July 11, 2011
On a recent hot summer day in San Bernardino, many thousands of people came together to celebrate their shared love of music and marijuana at Spring Gathering, one of California's largest medical marijuana events. Performers including Snoop Dogg, Cypress Hill, Stephen Marley with Damian Marley, Travis Barker and Mix Master Mike rocked the crowd all day long.
Spring Gathering was also home to the Cannabis Classic, sponsored by WeedMaps.com and hosted by Tommy Chong, a space for medical marijuana patients to gather in celebration of their favorite collectives, products and strains of the year. Celebrities and inspirational activists spoke about a number of cannabis issues, and awards were given in recognition of people and groups who work tirelessly to benefit the medical marijuana community. Elemental Wellness, a San Jose medical cannabis collective, received the honor of being named "Best Collective in Northern California," by patient vote.
"I was stunned when they called our name," said Rob Nia, Processing Manager of Elemental Wellness. "What an honor to be chosen as the top collective amongst so many amazing contenders!"
Executive Director Ariel Loveland agreed the moment was very exciting. "Everything starts whirling. Everyone's looking at you, talking to you, and everywhere you turn, you can't focus," he explained. "It's like you're walking on a cloud!"
WeedMaps.com, an online community for medical marijuana patients and dispensaries, sponsored the event, and sent ballots to over 200,000 of their registered patients to determine the award winners. The lovely Sarah Diesel, noted marijuana activist, founder of "Sarah D Magazine" and host of "Cannabis Planet," emceed the awards ceremony.
Elemental Wellness beat out Harborside (San Jose and Oakland), Palliative Health Center, Medithrive, Green Temple, Florin Wellness and Magnolia Wellness for the top spot.
"This is a big win! The reason we opened this collective was to give patients a safe and affordable place to get their medicine. We have just been rated the best collective by WeedMaps, which is the Yelp of cannabis. This award is a recognition by patients that we're achieving what we set out to do, and it inspires us to keep working hard to advance medical cannabis," exclaimed Loveland
The "Best Collective" award adds to the numerous honors received by Elemental Wellness since opening in early 2010. The San Jose cannabis dispensary also won two High Times Gold Medals for their exceptional strain of OG Kush, The True OG, and was chosen as one of the Best Alternative Medicine Collectives by readers of Metro, Silicon Valley's weekly newspaper.
For more information about the "Best Collective" award, or for information about any of Elemental Wellness Center's products or services, call them at (408) 433-3344, view them on the web at elementalwellnesscenter.com, visit their collective located at 711 Charcot Avenue in San Jose, or become a fan at facebook.com/elementalwellness.
About Elemental Wellness Center
Elemental Wellness Center is a state-of-the-art medical cannabis club in San Jose with an open, spa-like atmosphere; a warm, welcoming environment; and a highly trained, expert staff. The medicine is lab-tested to detect the presence of mold, mildew, and biological contaminants, and is analyzed for THC, CBD, and CBN potency. Elemental Wellness specializes in rare and boutique strains, and butane-free, oxygen extract hash, bubbles, melts, and waxes. The collective is dedicated to holistic healing of the mind, body and spirit, and has a healing room, community outreach center, library, and yoga studio, with all classes included free in the membership. Elemental Wellness is committed to giving back to members and the community, and has a fixed mark up on all their products. All profits go back into improving the collective or are donated to charity. With paintings and sculptures from local artists featured on its walls, this San Jose medical marijuana dispensary is a local hub for creative, healing energy.
# # #