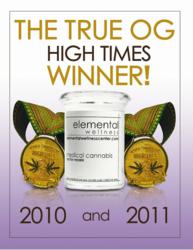 It's the greatest feeling of validation to have a group of industry experts tell you your medicine is the most potent, effective and delicious stuff on earth.
San Jose, CA (PRWEB) July 26, 2011
The 2nd annual High Times Medical Cannabis Cup, the most prestigious competition in the world of medical marijuana, was held in San Francisco on June 26th, 2011. Elemental Wellness, a San Jose marijuana dispensary, shined as the only collective to win three awards. The first award drew wild cheers from the audience, who presented the collective with one of the trophies for "Best Booth" at the event. Then the mood turned serious, as patient activists applauded the medical benefits of CBD, while handing Elemental Wellness its second award of the night, a medal for "Best CBD-Rich Strain," Jamaican Lion. Saving the best for last, the judges of High Times honored Elemental Wellness with its third award, a medal for its signature Kush, The True OG.
"It's the greatest feeling of validation...to have a group of industry experts, and legendary old skool heads, who have seen the best medicine in the world—the best medicine of all time, even—tell you your medicine is the most potent, effective, and delicious stuff on earth," said Ariel Loveland, executive director of Elemental Wellness.
Notably, the True OG, which is the exclusive strain of Elemental Wellness, won the gold medal for 2nd place Indica at last year's High Times Medical Cannabis Cup as well. A closely-guarded secret for the last eight years, The True OG is an Indica hybrid that has been lovingly cultivated by the expert growers of the collective from just 10 original cuts originating in Topanga Canyon. The True OG tested at a whopping 19.26% THC in this year's competition, which certainly contributed to its high score with the judges.
"The pre-flame toke will tease your taste buds with strong pine, fuel, and lemony kush," Dragonfly recently opined in a review of the strain for West Coast Cannabis. "Taken as an afternoon delight, The True OG will give you a pleasantly buoyant buzz… leaving your mind stimulated and your body relaxed."
Jorge Cervantes, world famous guerilla grow expert and celebrity cannabis connoisseur, judged last year's High Times competition, declaring, "Oh this has the dank smell; this is definitely, definitely The True OG." The True OG is reported to be effective at treating stress, anxiety, insomnia, hip and back pain, and even stomachaches.
Elemental Wellness is particularly proud to receive the medal for Jamaican Lion, its high-CBD strain. Cannabidiol (CBD) is a cannabinoid found in marijuana that contains medicinal properties. Unlike THC, the most-well known of the cannabinoids, CBD does not cause psychoactive effects. For a long time, CBD was bred out of marijuana, but in recent years, members of the medical cannabis community have been cultivating strains with elevated CBD content for patients who prefer not to get high, but still want the medicinal effects, such as analgesia, anti-inflammatory, and antibacterial. The Jamaican Lion tested at 8.1% CBD content, whereas most cannabis on the market contains CBD levels of 0.1% or less.
Some dispensaries have been reluctant to offer high-CBD medicine, saying their members wouldn't be interested in it, but Elemental Wellness sees great potential patient benefit, and has been working closely with the educational news service Project CBD to bring high-CBD strains to market in the medical cannabis industry.
"I want to congratulate both the cultivator of Jamaican Lion and Elemental Wellness for their gold medal win in the High Times Cup," said Sarah Russo, Outreach Coordinator for Project CBD. "I commend Elemental Wellness for making this strain available to patients. The involvement of collectives plays a key role in getting CBD medicine to patients. This allows them to take part in the collective research effort of Project CBD and the Society of Cannabis Clinicians. The more people we have sharing their experiences, the more we will be able to examine and report on the healing potential of CBD."
Elemental Wellness also took home the third-place trophy for its beautiful booth at the Cannabis Cup expo. "Elemental Wellness had a really dynamic booth. The backdrop of the booth was a giant photo of the dispensary. Everything was life-size in it. It looked 3-D, like you were actually walking into the place." said Liana Held, a patient at the expo.
These awards add to the numerous honors received by Elemental Wellness since opening in early 2010. The San Jose cannabis dispensary also recently won "Best Collective in Northern California" at the WeedMaps Cannabis Classic and was chosen as one of the "Best Alternative Medicine Collectives" by readers of Metro, Silicon Valley's weekly newspaper.
For more information about the High Times Medical Cannabis Cup awards, or for information about any of Elemental Wellness Center's products or services, call them at (408) 433-3344, view them on the web at elementalwellnesscenter.com, become a fan at facebook.com/elementalwellness or visit their collective located at 711 Charcot Avenue in San Jose.
About Elemental Wellness Center
Elemental Wellness Center is a state-of-the-art medical cannabis club in San Jose with an open, spa-like atmosphere; a warm, welcoming environment; and a highly trained, expert staff. The medicine is lab-tested to detect the presence of mold, mildew, and biological contaminants, as well as pesticides, and is analyzed for THC, CBD, and CBN potency. Elemental Wellness specializes in rare and boutique strains, and butane-free, oxygen extract hash, bubbles, melts, and waxes. The collective is dedicated to holistic healing of the mind, body and spirit, and has a healing room, community outreach center, library, and yoga studio, with all services and classes included free in the membership. Elemental Wellness is committed to giving back to members and the community, and has a fixed mark up on all their products. All profits go back into improving the collective or are donated to charity. With paintings and sculptures from local artists featured on its walls, this San Jose medical marijuana dispensary is a local hub for creative, healing energy.
About Project CBD
Project CBD is an educational news service reporting on the reintroduction of CBD in the grassroots supply. Project CBD monitors and publicizes research into the medicinal properties of cannabidiol (CBD) and other components of the cannabis plant. Their mission is to be the go-to site for CBD-related information. Their website features the CBDiary, which is the catch-all news column hearing from labs, patients, dispensaries, cultivators, product makers, and others who are involved in the CBD story. They also feature a patient survey on the site created by the Society of Cannabis Clinicians to assess the effectiveness of CBD on patients' health. There have been lab studies and a few clinical trials looking at the healing potential of CBD, but the real-life study has just begun. Project CBD encourages those using CBD-rich medicine to take part in the data collection effort. Check out their website to learn about new cutting edge information on CBD and other components in the cannabis plant. http://www.ProjectCBD.org.
###