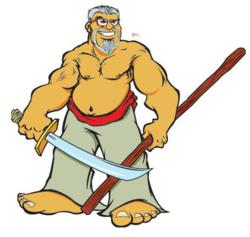 Master Kush is no longer just a pipe dream.
Los Angeles, CA (PRWEB) August 25, 2011
Master Kush is smokin'. The first episode of the online animated series "Master Kush" has just received top placement in its debut on Animation Nation, the nation's leading animation forum. The webisode from Kush Boys Studios follows the adventures of retired martial arts superstar Akura Kushimota (Master Kush), who is forced out of retirement to fight off an evil government program called ICU that is trying to ruin the good Kush name.
"We are excited that Master Kush is being showcased on such a powerhouse site for animation," said Drue Young, Master Kush co-creator and co-founder of Kush Boys Worldwide. "Master Kush is no longer just a pipe dream; he's out there fighting the good fight and taking over," added Master Kush co-creator Andrew Todd.
Master Kush is a new breed of hero for the new-age pop culture, a diverse demographic of individuals who advocate for personal freedom. He is a veteran martial arts master, whose personality can be described as one part Bruce Lee and one part Jack Nicholson shaken with a twist of Tommy Chong, who is in fact the voice of Master Kush.
Master Kush bridges the genre gaps of comedy, martial arts, marijuana, and animation—and Hollywood is giving Master Kush high marks. Academy Award nominee Mark Wahlberg said, "Master Kush has great potential. I look for the project to do big things."
Eragon and Friday Night Lights star Garrett Hedlund has said, "Master Kush speaks to Generation X, Y, M, and me. There's going to be a little bit of Master Kush in everybody. I am looking forward to more episodes."
To keep Master Kush's growing fan base informed of developments, Kush Boys Studios recently launched Master Kush Facebook (facebook.com/akaMasterKush) and Twitter (@masterkushlive) sites, which are attracting a healthy following. For more information about Master Kush or Kush Boys Studios, contact show creator Drue Young or Jamal Weathers at (888) 557-3332.
About Kush Boys Studios, LLC.
Kush Boys Studios, LLC. is the parent company that houses the copyrights and trademarks for the multi-faceted literary and film project Master Kush and was founded in 2005 as a promotion, production, and marketing company. Their key strength is production, including animation concept, intellectual properties, illustration and graphic design, animation and video production, business strategy, merchandise and promotional packaging, licenses, advertising and innovative marketing campaigns.
About AnimationNation.com (AN)
Animation Nation (AN) "The Voice of the Animation Industry" is an industry-centric animation community with a distinguished history of encouraging reform, unity and independence among artists. AN maintains a troll-free online environment on http://www.animationnation.com so that members can enjoy a positive, hospitable online experience. AN is a pioneer in the animation industry in establishing a professional, civil and respectful atmosphere in which members may converse and interact with each other.
About Kush Boys Worldwide
Kush Boys Worldwide is a Los Angeles-based company committed to pursuing ventures that benefit a demographic known as the new-age pop culture, a diverse demographic composed of creative, productive, and fun-loving individuals who advocate personal freedom and empowerment, and who like to remain current. This audience includes, but is not limited to, members of the cannabis culture and those concerned about protecting the environment.
Current projects include the online animated series Master Kush, an eco-friendly clothing line called Kush Couture Lifestyle Apparel (KCLA), an all-natural health tea made with green and black tea and hemp seed known as Chronic Ice, the natural male enhancement supplement Sir Rock and Kush Boys Studios.
# # #