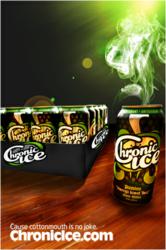 Stop by and cool off with some Chronic Ice, our premium hemp iced tea.
Anaheim, CA (Vocus/PRWEB) July 01, 2011
The 2nd annual Kush Expo, Orange County's biggest medical marijuana trade show, will take over the Anaheim Convention Center on July 8th, 9th and 10th. The event will feature comedy, music, the infamous Hot Kush Girl Contest, a smoking section, and hundreds of booths from dispensaries, paraphernalia makers, growing experts, apparel designers, publications, and much more. Online marijuana entertainment and culture magazine Chronic Candy will be on hand with four flavors of their namesake hemp lollypops. They will also be giving out free samples of the hemp iced tea that's quickly becoming the favorite beverage of the community, Chronic Ice.
"Chronic Candy will be out in full force at Kush Expo, ready to meet the crowd of likeminded cannabis lovers," says founder Tony Van Pelt. "Stop by and cool off with some Chronic Ice, our premium hemp iced tea."
Chronic Ice is a refreshing health tea, made with organic sugar cane, a green and black tea blend, lemon essence, ascorbic acid and, of course, hemp seed extract. The antioxidant-rich, healthy tea contains only 80 calories per serving, and is free of preservatives and high-fructose corn syrup. Representatives will be handing out samples of the all-natural hemp drink, and cans will be available for purchase.
Chronic Candy will also bring the lollypop that made its name. The hemp candy, available in four flavors, is not psychoactive—it contains no THC—but it is delicious. Varieties include the original hemp flavor, OG Kush; grape-flavored Purple Erkle; blueberry-flavored Blue Dream; and tropical-flavored Mango. Chronic Candy will have nickel bags and dime bags available at the booth.
Chronic Candy will be showing some love with free swag at the booth, too. Expo attendees are encouraged to stop by and grab stickers and rolling trays.
Kush Expo will be hosted by the 420 Comic. Live performances by Mystic Roots (winners of the Marijuana Music Award for Best Artist 2011), Los Marijuanos, and more will keep the crowd going all weekend long. The Hot Kush Girl Contest, sponsored by Orange County Patients Care, will heat up the stage on Sunday.
There will be a designated area at Kush Expo for medical marijuana patients to medicate, and doctors will be available to provide recommendation cards. Dispensaries and collectives will be handing out coupons, and there will be tons of prizes and giveaways. The chill out area will have food, a full liquor bar, and massage chairs.
Kush Expo will take place at the Anaheim Convention Center, located across from Disneyland, from 3 to 9 pm on Friday, July 8th, 11 am to 9 pm on Saturday, July 9th; and 11am to 7pm on Sunday, July 10th. The event is open to everyone 18 and over; no medical card needed. Single day tickets are $13 online at http://kushexpo.com/tickets/ or $15-20 at the door.
For more information about Chronic Ice, visit ChronicIce.com. For more information about Chronic Candy hemp lollypops, visit ChronicCandy.com.
About ChronicCandy.com
ChronicCandy.com is at the forefront of online medical marijuana news today. It's the one-stop shop for the latest information about the cultural, medicinal, and political aspects of the rapidly changing medical marijuana industry. Whether it's the newest trends in cannabis culture or developments in medical marijuana or politics and laws pertaining to cannabis use, Chronic Candy has it covered.
###