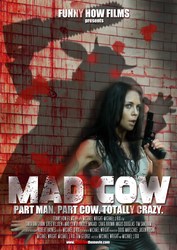 We just hope we can assure its safe return and Mad Cow doesn't end up grilled with frites'
San Francisco, CA (PRWEB) May 13, 2010
Filmmakers from Funny How Films arriving in Cannes for the opening of their movie 'Mad Cow' are without their star today, as the costume head, used to turn the actor into the character of Mad Cow, has gone missing.
The prop was to be used in promoting the movie which opens on 17th May in Cannes, and although the screening will go ahead as planned, Mad Cow himself will not be appearing in person, as yet, on the world-famous Croisette.
'Mad Cow' producers are offering a $10,000 reward and a Mad Cow t-shirt in exchange for the costume's safe return.
Last seen in the trunk of a taxi at Nice airport, the $2,000 costume head is a detailed recreation of its bovine name sake and was worn in the fast-paced comedy horror movie that shot in South Africa earlier this year.
Producer Jason Rogan commented, "We need this prop back as it's a vital part of our promotion efforts for the picture. We just can't work out how it disappeared, but maybe some French movie fan took a shine to it. We just hope we can assure its safe return and Mad Cow doesn't end up grilled with frites'."
Mad Cow is screened in the Marche at Cannes 3.30 at Palais F on 17th May 2010.
###