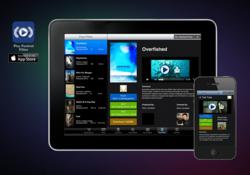 I love this app. I am able to watch some cool films that otherwise I would not be able to watch. ~ User Review, iTunes
Los Angeles, CA (PRWEB) May 15, 2013
As the 66th Cannes Film Festival kicks off today in France, Play Festival Films (Los Angeles, CA) is booked 12 hours a day with filmmaker meetings to acquire more award-winning films that will be distributed digitally on iOS mobile devices (worldwide) and TV (VOD on Dish Network in North America). While the world is watching Cannes 2013 (May 15-26), movie fans can watch Cannes award-winning films anytime, anywhere using Play Festival Films free iPhone, iPad and iPad Mini app.
Indie film fans can now enjoy over 75 short films in 11 genres (animation, comedy, romance, etc) on the Play Festival Films app that are almost impossible to find anywhere else, including 14 Cannes films and award-winning hits such as:
1. "Overfished" (Cannes 2012, Finalist at American Pavilion, Narrated by Daryl Hannah)
2. "Foet" (Cannes 2012, Best Horror Short at Great Lakes Film Festival)
3. "Kwame" (Cannes 2009, Outstanding Achievement in Direction at Directors Guild of America. Owned by University of Southern California, Los Angeles)
4. "Coons" (Cannes 2008, Best Nebraska Short Omaha Film Festival 2007)
Because indie filmmakers have limited distribution channels, the Play Festival Films app connects the entertainment industry with audiences who want to see this content uninterrupted. One app user wrote this review on iTunes, "I love this app. I am able to watch some cool films that otherwise I would not be able to watch."
The majority of the Play Festival Films (ranging from 5 – 40 minutes) have won awards and/or are by award-winning filmmakers, including "Over the Line" by Sam French, Academy Award Nominee 2013 and Best Director at Beverly Hills Shorts Film Festival. Because most of these films are only seen at film festivals or thru trailers on YouTube, the Play Festival Films app provides access to these high quality films.
The app contains free and paid films. Fans can watch the Play Festival Films free library of award-winning films via streaming anytime, anywhere there is WiFi access (Apple insists on WiFi so consumers don't get hit with big data bills). After watching a brief pre-roll advertisement, the rest of the Play Festival Films viewing experience is quality content that is interruption-free.
To make it easy for viewers to keep watching all movies for free, the app also includes a fun gaming element with points. Users automatically earn 20 points just for downloading the app, which is the amount needed to watch one paid film for free. If a user watches 10 free films, they earn 20 points (2 points for each short watched), which earns the user a viewing experience to watch one paid film for free.
The "Top Pics" on the Play Festival Films app are some of the paid films (only $0.99), which the independent film lovers can both stream and download on their iPhone, iPad or iPad Mini, and then watch at the beach, on an airplane or anywhere WiFi is not available. "A Tall Tale" by Brittany Biggs is one of their best selling short films that should not be missed.
During Cannes 2013, Play Festival Films is looking forward to acquiring more award-winning content for consumers. The app already includes film festival hits such as "Lullaby For Ray" (Cannes 2011, Best Short Film at TIFF), "Random Strangers" (Sundance and SXSW 2012), "Death Of A Pop Star" (Audience Award at NYC Short Film Festival and inspired by circumstances surrounding the death of Michael Jackson), "Magpie" (SXSW 2012, Horror, Sci-Fi) plus 20 shorts from the USC School of Cinematic Arts, Los Angeles.
The Play Festival Films team is in extremely high demand at Cannes 2013. During the festival, the Cannes team has already booked Play Festival Films in 15-minute "filmmaker speed dating" meetings every day from 9am – midnight http://www.cannescourtmetrage.com/en/fiches. Some of the filmmakers who could not get appointments at Cannes 2013 have even scheduled 10-minute sessions with Play Festival Films when they walk between meetings from the Short Film Corner Buyers Section to the German Pavilion to the Grand Hotel and more.
Moving forward, Play Festival Films has just signed a deal with Dish Network in North America so movie fans will be able to watch their independent short and feature films on TV (VOD). More news will be released on this deal later this summer. Download the Play Festival Films app for free on the Apple App Store or iTunes http://bit.ly/PlayFestivalFilms-iTunes
Media Contact
Liz H Kelly, 1-310-987-7207
About
After watching the short film screenings at USC (University of Southern California) School of Cinematic Arts, Los Angeles in 2009, Play Festival Films http://playfestivalfilms.com, Founder, Mohit Mahajan (who earned his MBA and Technology Commercialization graduate certificate from USC Marshall Business School, Los Angeles) decided that he wanted to provide a way for people to view this great content that many can only find at film festivals. Because filmmakers have very few distribution options for short films, Play Festival Films created the perfect distribution channel for these films. Mohit also has a computer science and engineering background, worked at ROVI and developed Video on Demand for major cable networks. Follow all the news on the Play Festival Films Facebook. And To download the app, visit http://bit.ly/PlayFestivalFilms-iTunes