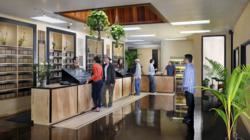 While we are all on our own, unique, spiritual path, sharing our experiences with others can be a very unifying experience
San Jose, CA (PRWEB) September 10, 2011
San Jose cannabis dispensary Elemental Wellness Center is excited to welcome back interfaith minister and spiritual counselor Mark Pelter, who will hold a free workshop, "Spirituality and Cannabis," on Sunday, September 25th from noon to 2 p.m. In this lively and inspirational workshop, Mark will examine the significance of the autumnal equinox, and ask participants to reflect on the role medical cannabis has played in their spiritual healing.
"I believe that if someone finds cannabis helpful to their experience of spirituality, that the medicine for them has a more holistic value," Mark says.
The workshop will start with a short meditation—a time for participants to deeply connect with themselves. In small group discussions, people will talk about their individual experiences with medical cannabis and how it has helped them heal, both mentally and physically. Then they will appoint a group representative to present their discoveries to the larger group, led by Mark. The workshop will conclude with a blessing and breaking of bread to usher in the transition from summer to fall.
"Mark's workshops are amazing," says Jody, a member of Elemental Wellness who attended Mark's seminar last spring. "It's inspiring to hear so many powerful stories of healing, and find out how much I have in common with everyone."
"While we are all on our own, unique, spiritual path, sharing our experiences with others can be a very unifying experience," Mark explains. "Our personality, or ego, is founded on the illusion of separation. The ultimate truth is that there is no separation at all."
The gathering will explore the significance of the equinox, a period of perfect balance between light and dark, and how people are affected by the change of season. "We all have a summer 'harvest' of experiences that we carry into fall. The plant can help us with deep inner healing by heightening our awareness and understanding of those experiences. If we choose not to suppress our thoughts and feelings, we can learn from them," says Mark.
For more information about the "Spirituality and Cannabis" workshop, or for information about any of Elemental Wellness Center's products or services, call the San Jose marijuana dispensary at (408) 433-3344, view them on the web at elementalwellnesscenter.com, become a fan at facebook.com/elementalwellness, or visit their collective located at 711 Charcot Avenue in San Jose.
About Elemental Wellness Center
Elemental Wellness Center is a state-of-the-art medical cannabis club in San Jose with an open, spa-like atmosphere; a warm, welcoming environment; and a highly trained, expert staff. The medicine is lab-tested to detect the presence of mold, mildew, and biological contaminants, as well as pesticides, and is analyzed for THC, CBD, and CBN potency. Elemental Wellness specializes in rare and boutique strains, and butane-free, oxygen extract hash, bubbles, melts, and waxes. The collective is dedicated to holistic healing of the mind, body and spirit, and has a healing room, community outreach center, library, and yoga studio, with all services and classes included free in the membership. Elemental Wellness is committed to giving back to members and the community, and has a fixed mark up on all their products. All profits go back into improving the collective or are donated to charity. With paintings and sculptures from local artists featured on its walls, this San Jose medical marijuana dispensary is a local hub for creative, healing energy. Elemental Wellness was voted best dispensary in northern California by WeedMaps.com, and won 2nd place in the High Times Medical Cannabis Cup in both 2010 and 2011 for its in-house strain, The True OG.
About Mark Pelter
Mark Pelter is the Director of Twelve Meadows, A Center for Renewal located in the High Sierras of California. He has been a spiritual guidance counselor for 28 years. He is the author of Choosing What's Chosen You, a workbook for developing loving kindness towards the self and others. His training includes the study of Western and Eastern wisdom teachings, as well as 12 years of Buddhist monastic life. Mark holds a BA in Psychology, an MA in Consciousness Studies, a Masters of Divinity Degree, and is a Board Certified Chaplain. He has also narrated the meditation instruction CD entitled Same Old Zafu.
###