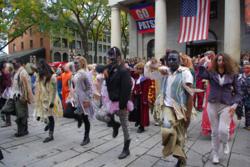 Together, Canobie Lake Park and Faneuil Hall Marketplace developed a Halloween-themed event that was both exciting and current.
Boston, MA (PRWEB) October 15, 2012
Just prior to 2:00 pm on Friday, October 12, a caravan of buses pulled alongside historic Faneuil Hall Marketplace in Boston and discharged their passengers – zombies, monsters and ghouls. Hundreds of them, marching stiff-legged toward the market's West End.
As the monsters paraded through Faneuil Hall Marketplace Boston radio celebrity "undertakers" Billy Costa of KISS 108FM and Ramiro of JAMN 94.5FM emerged from two hearses at the front of group, and the sound of eerie dance music was heard throughout the historic marketplace.
Choreographed in unison, the monsters began to dance to the spine-tingling beat. The performance wowed spectators for more than three minutes and culminated with the sound of electric shocks as the zombies twitched in their final throes of the dance. Then, as quickly as they arrived, they were gone, back on the buses, back to Canobie Lake Park SCREEEMFEST in Salem, New Hampshire, from where they had come.
The "zombie flash mob" was a joint effort between Canobie Lake Park and Faneuil Hall Marketplace.
"Both of our organizations are committed to reinventing ways to entertain our visitors and guests," said Chris Nicoli, Canobie Lake Park's Marketing and Entertainment Manager. "We have a great partnership with Faneuil Hall Marketplace, and together we developed a Halloween-themed event that was both exciting and current. Canobie Lake Park SCREEEMFEST, running weekends throughout the month of October, provided the resources allowing us to assemble a huge cast of 'monsters and zombies' and present a performance in the heart of Boston that everyone could enjoy."
"Faneuil Hall Marketplace has always been an iconic Boston destination. The Marketplace is working hard to launch a series of new programs and events that will shape Boston's future," said Kristin Phelan, Director of Marketing, Faneuil Hall Marketplace. "Partners like Canobie Lake Park share a similar mission in creating unique and memorable experiences for guests that will make them want to visit time and time again."
The hundreds of costumed "monsters" were choreographed by Canobie Lake Park's Entertainment Department to custom music prepared for the event. Click here to view the video.
# # #
Canobie Lake Park SCREEEMFEST is where FEAR meets FUN and continues each weekend through October 28th. Scream in five terrifying haunted houses or on Canobie's newest thrill ride, EQUINOX. Enjoy your favorite Canobie rides, games, live entertainment and attractions – plus Canobie's OKTOBERFEST with a beer garden, food, music and fun, and the Park's new Autumn Fairgrounds Retail Area. Canobie Lake Park SCREEEMFEST is located at exit 2 or 3 off Route 93 in Salem, New Hampshire. For hours, directions and more information, visit http://www.canobie.com. Official Facebook Page Twitter @CanobieLakePark
Located in the heart of downtown Boston, Faneuil Hall Marketplace is the nation's premier urban marketplace. The Marketplace combines the glories of the past and vitality of the present, with 49 shops, 44 pushcarts, 13 full service restaurants, and 35 food stalls. Renowned for its outdoor entertainment, the Marketplace is host to internationally renowned acrobats, contortionists, jugglers, magicians and more. Ethnic foods and unique gifts are just a few elements that make the cobblestone streets of Faneuil Hall Marketplace such a festive and unique destination. For more information, visit http://www.faneuilhallmarketplace.com. Official Facebook Page Twitter @FaneuilHall