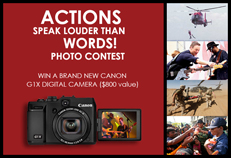 $1 dollar will be donated to the Gary Sinise Foundation for every photo entry AND vote submitted.
Carlsbad, CA (PRWEB) November 06, 2012
In support of the Gary Sinise Foundation, a non-profit charitable organization dedicated to improving the lives of American veterans and first responders, Geo Tactical Solutions (GTS) has teamed up with Canon USA to launch the "Actions Speak Louder than Words" photo contest. In addition to three valuable prizes being offered to the first, second and third place winners of the photo contest, GTS will be donating $1 dollar to the Gary Sinise Foundation for every photo entry AND vote submitted. The contest will run from Nov. 5th 2012 to Dec. 7th 2012 and three winners will be selected based on photo entries that receive the highest number of votes at the end of the contest.
In an effort to raise more money for the charity, GTS is encouraging anyone and everyone to participate in the contest. "If you don't have a photo to enter or don't have the time to take a photo, you can still participate and help raise money for our brave men and woman in uniform by voting on your favorite photo," noted Matt Kidd, President at Geo Tactical Solutions.
Click here to visit the photo contest entry page »
Photo Contest Details:
Theme: "Actions Speak Louder Than Words"
First Place Prize: Canon Powershot G1X digital camera
Second Place Prize: Canon PowerShot Elph 110 HS digital camera
Third Place Prize: $50 Amazon gift card
Start Date: November 5, 2012
End Date: December 7, 2012
Who can enter: anyone over the age of 13
Click here to enter or vote on a photo »
About the Gary Sinise Foundation
The Gary Sinise Foundation is a non-profit charitable organization founded by the well-known actor and musician Gary Sinise. "At the Gary Sinise Foundation, we serve our Nation by honoring our defenders, veterans, first responders, their families, and those in need. We do this by creating and supporting unique programs designed to entertain, educate, inspire, strengthen, and build communities." Learn more about the Gary Sinise Foundation at http://www.garysinisefoundation.org.
About Canon USA
Canon U.S.A., Inc., headquartered in Lake Success, New York, is a leading provider of consumer, business-to-business, and industrial digital imaging solutions. Learn more about Canon USA at http://www.usa.canon.com.
About Geo Tactical Solutions
Geo Tactical Solutions is a Service-Disabled Veteran-Owned Small Business (SDVOSB) that provides advanced GPS cameras, GPS modules, photo mapping software and on-site training to government and commercial customers worldwide. Learn more about GTS at http://www.geotacticalsolutions.com.