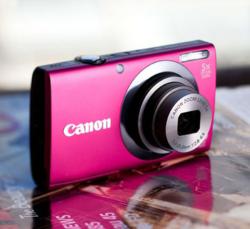 Denver, CO (PRWEB) January 24, 2013
Find My Price, one of the most popular tech-based companies on the Internet, released on the website a review about the new 2013 deals for Canon's PowerShot A2300 IS digital camera.
The reviewed product that is also commercialized on the company's website is Canon's PowerShot A2300 IS digital camera. There are many online retailers selling the gadget on their websites, but Find My Price wanted its visitors to get the best possible deal.
A report was published at http://www.findmyprice.net to help visitors get a clear picture about the digital camera. Based on Find My Price's report, the camera features 16 mega pixels and an optical zoom range of x5. Users can record 720p HD videos by simply clicking the 'record' button on the back of the camera.
The metal case and the retractable lens confer a stylish look to the A2300 model opposite to other low-budget cameras. The PowerShot A2300 IS was designed as a portable device due to its small dimensions, 0.8/ 3.7/ 2.1 (height, width, depth) and its 3.8-ounce weight.
The online report begins with a small presentation of the device. Reviewers will introduce the 2.7 inches LCD screen on the back of the camera and the functions that the buttons on the right side of the camera can perform. There are 18 shooting modes/special scene modes that may be selected before taking pictures.
Canon PowerShot A2300 IS comes in 5 shades: black, gray, silver, red and blue. The device has a Lithium-ion battery that usually needs to be recharged after 400 shots. The package that will be auctioned on Find My Price's website this Sunday includes the Canon PowerShot A2300 digital camera, an NB-11L battery pack for Canon ELPH 110 HS, a CB-2LD battery charger, a wrist strap WS-800, IFC-400PCU USB interface cable, a digital camera solution CD-ROM and a limited 1-year warranty.
"All consumers can check the camera and it functions, as well as the best offers on our website. The smallest price will be posted on Find My Price for the following month," said Edward Stones, the company's spokesman. According to Edward Stones, interested customer will be able to get the best information on Canon PowerShot A2300 IS and even order it on the company's website.
Find My Price is an e-commerce provider dedicated to tech reviews, pros and cons, price comparisons and market reports. Reviewers' recommendations are grounded on a detailed analysis of the technological market and a thorough review of the latest products.