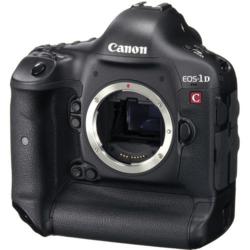 Canon EOS-1D C 4K Cinema 18.1Mp CMOS Sensor Camera Now In Stock at B&H Photo Video
NYC, NY (PRWEB) January 09, 2013
B&H Photo Video is pleased to share with professional photographers that the long awaited Canon EOS-1D C camera is currently in stock and ready to ship.
The Canon EOS-1D C Camera from Canon is a breakthrough in hybrid HDSLR technology--able to record stills, 4K and Full HD video, to either two on-board CF cards or uncompressed Full HD to outboard recorders.
One of the largest benefits of having 4K video technology in a DSLR body is that it will be able to go places that other larger 4K cameras cannot, providing new ways of composing and capturing scenes. It is also compatible with the entire fleet of Canon EOS lenses already available, and perhaps already in ones arsenal. If looking for a powerful yet versatile rig that knows what a cinematographer wants and needs, then Canon answers the call with this impressive offering.
The EOS-1D C was built to shoot cinematic quality, in a compact and versatile EOS body. It is able to capture 4K (4096 x 2160), 24p (23.976) content directly to its on-board CF memory cards. It does this by using an 8-bit 4:2:2, high bit rate Motion JPEG compression scheme--allowing 4K content to be acquired in virtually any shooting environment, without an off-board external recorder.
Coupled with the camera's small form factor, the EOS-1D C allows 4K recording in environments that would normally be impossible or that would require much larger cameras, crews and permits. It also allows filmmakers to be discreet in crowded or hostile shooting environments, on and in vehicles, or even in underwater housings.
In addition to its large pixel size--for outstanding still images and 4096 x 2160 video--the camera provides the serious photographer with a generous ergonomic design, along with a smart layout of the controls. Dual CF card slots ensure that every shot can be captured, while the magnesium alloy body is dust and weather resistant, allowing one to get the job done without hesitation, or worry.
Producing the selective focus and field of view that made filmmakers fall in love with the EOS 5D Mark II, the standard Full-Frame HD setting on the EOS-1D C takes advantage of the camera's 36mm sensor width. This setting is ideal when filmmakers want to take full advantage of Canon's EF and EF Cinema prime lenses to capture that unique and distinct full-frame look--though Canon's EF Cinema zoom lenses require the Super 35mm Cropping setting, fixed focal length EF Cinema lenses will cover the area of a full-frame sensor.
As a new category of hybrid HDSLR cameras is created, capable of shooting 4K video--the motion picture industry standard--Canon and the EOS-1D C enter previously uncharted territory. Now cinematographers can shoot feature films from inside cars and planes, or documentaries using underwater housings--allowing a whole new perspective to be captured for the big screen.
Cinematic 4K Video
Putting the industry standard of 4K (4096 x 2160), 24p (23.976) video into an EOS-1D camera body revolutionizes the way feature films, documentaries, and television studios can record. Now instead of teams of workers, heavy and complicated equipment, and even permits just to use it all, one can get an enormous amount of versatility, mobility, and creative control without losing cinematic quality.
The 1D C can also simultaneously output a time code stamped, uncompressed 8-bit 4:2:2 Full HD signal for off-board recording--Clean HD video via HDMI. While recording in this high quality, however, roughly each minute of recorded content occupies 4GB of storage space. Therefore, a 64GB CF card can record approximately 16 minutes of 4K content so one will likely come to rely on the dual CF card slots as they fill up faster than HD video on previous DSLR cameras.
Full HD Recording
The EOS-1D C is capable of recording Full HD (1920 x 1080) content to on-board CF cards with a choice of frame rates (24p, 25p, 30p, 50p and 60p), in two distinct fields of view (Full-Frame HD and Super 35mm Crop). Both are recorded as 8-bit 4:2:0 H.264 based Full HD video, and can be recorded at a number of frame rates all the way up to 60 progressive frames per second (which requires no up scaling in post when dropped into a 1920 x 1080 timeline).
The 1D C's Super 35mm Cropping setting matches the motion picture industry's standard imaging format and angle of view when in a commercial or feature film environment. Using this setting will match the depth of field and angle of view used in virtually all digital cinema cameras on the market today (including the Canon EOS C500 and C300).
About B&H Photo Video
As the world's largest source of photography, video and audio equipment, B&H Photo-Video is known worldwide for their attentive, knowledgeable sales force, and excellent customer service, including fast, reliable shipping. Visitors to the website can access a variety of enlightening articles and educational videos. B&H has been satisfying customers worldwide for over 35 years.