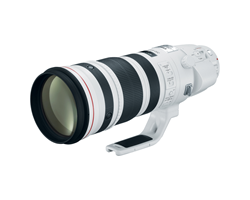 B&H Photo reveals the first hands-on review of the highly anticipated Canon EF 200-400mm f/4L IS USM high-performance super-telephoto zoom lens.
New York City, NY (PRWEB) May 14, 2013
Designed to satisfy the discriminating needs of sports and wildlife photographers, the Canon EF 200–400mm f/4L IS USM Extender 1.4X a high-performance super telephoto zoom lens with an optically matched built-in 1.4x extender that converts the focal length and maximum aperture to 280-560mm f/5.6. The extender is located at the base of the lens and applied with a simple lever switch.
Canon EF 200-400mm f/4L IS USM lens features one Fluorite and four Ultra-low Dispersion optical elements that deliver sharper images with less chromatic aberration. Super-spectra lens coatings minimize ghosting and flare and a Fluorine coating on the front and rear lens elements keep oily smears and fingerprints to a minimum.
Internal 1.4x Extender Switch A built-in 1.4x optical extender allows photographers to extend the focal length of the lens with just a simple lever, avoiding time-consuming and potentially damaging lens changes. Located at the base of the lens, the extender has a lock mechanism that is easily disengaged to let one enable the extender. With the extender in place, the focal lengths of the Canon EF 200-400mm f/4L IS USM lens increase to 280-560mm but the aperture narrows to f/5.6-45. Also, with the extender engaged, the lens now contains 33 optical elements in 24 groups, its maximum magnification is 0.21x and its diagonal angle of view is 8º-50' to 4º-25'.
Power Focus Mode Using the playback ring, the Power Focus mode enables smooth, automatic focus shifts which are essential when using the EF 200-400mm f/4 for filmmaking. There are two speeds available in Power Focus Mode.
Flourite and UD Lens Elements One flourite and four UD (Ultra-low Dispersion) lens elements correct for chromatic aberrations and provide sharp imaging throughout the zoom range.
Lens Coating Optimized lens placement and coatings deliver outstanding color balance, while helping to minimize ghosting and flare.
9-Blade Circular Aperture The 9-blade circular aperture design helps to deliver beautiful, soft backgrounds.
Drop-In Filter Holder A rear 52(WII)-series drop-in filter holder is included with the lens and allows you to place separately sold pre-cut gelatin filters into the back end of the lens for specific applications.
Water and Dust Resistant With its exceptional design and construction, the L-series 200-400mm f/4 lens is resistant to dust and moisture and ready for shooting in harsh conditions. Flourine Coating Fluorine coating on front and rear lens surfaces reduces smears and fingerprints.
Security Slot An attachment slot is provided for a wire-type security lock. The slot is located under the cover of the orientation locking knob. The wire-type security lock can be purchased
separately.
Read a full hands-on review: the New Canon EF 200-400mm f/4L IS USM Extender 1.4x Lens
Canon EF 200-400mm f/4L IS USM L-Series super telephoto zoom lens review
•High-Performance Telephoto Zoom Lens
•Canon EF Mount
•Aperture Range f/4-32
•Built-in 1.4x Extender
•Three-Mode Optical Image Stabilization
•Ring USM Autofocus & Inner Focus System
•Power Focus Mode for Smooth Focus Shift
•One Flourite and Four UD Lens Elements
•Flourine Front & Rear Lens Coating
•Highly Resistant to Dust and Water
B&H Photo a qualified Canon Authorized dealer with the most up to date Canon product information, product pricing and promotional offers. B&H Photo is currently accepting pre-orders on the Canon EF 200-400mm f/4L IS USM L-series super telephoto zoom lens.
Canon also announced the lens case for Canon EF 200-400mm f/4L IS USM lens. A hard lens case, providing substantial protection against impacts during shipping and travel. It is made to carry a Canon EF 200-400mm f/4L IS USM lens and has a molded, padded interior specific to the shape and size of the lens. There are also spaces within the case for accessories. The exterior of the case features a sliding closure with key locks, rubber feet on the bottom and side of the case and fold-down handles on the top and side. A detachable shoulder strap is also included.
Connect with B&H Photo on the web! (Facebook, Twitter, Tumblr, Google+, Pinterest, Flickr, YouTube, B&H Insights & InDepth)
About B&H Photo Video
As the world's largest source of photography, video and audio equipment, B&H Photo-Video is known worldwide for their attentive, knowledgeable sales force, and excellent customer service, including fast, reliable shipping. Visitors to the website can access a variety of enlightening articles and educational videos. B&H has been satisfying customers worldwide for close to 40 years.