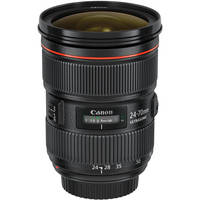 B&H announced that it is accepting pre-orders for the new Canon 24-70MM f/2.8L professional zoom lens
NYC, NY (PRWEB) February 08, 2012
B&H Photo is excited to share with photo enthusiasts the release of the latest exciting EF lens from Canon—the EF 24-70MM f/2.8L— which features a host of updates and improvements
Canon launched the new and much-anticipated EF 24-70MM f/2.8L professional zoom lens.
Concurrently, B&H announced that it is accepting pre-orders for the hot new professional zoom lens from Canon—the EF 24-70MM f/2.8L.
With this new lens, Canon adds to its already-famous EF lens series, and furthers it reputation as a dominant force in the world of photography. The new Canon EF 24-70mm f/2.8L II USM professional zoom lens is an update to the popular EF 24-70mm f/2.8L USM, and provides the highest level of performance while combining premium image quality and user-friendly architecture.
The new EF 24-70mm f/2.8L II USM features overhauled optics which provide outstanding clarity, image quality and durability. Its compact design makes it ideal for transport, while a range of optical enhancements provide improved performance—capturing greater detail across the frame while reducing distortion throughout the entire zoom range.
The new optical system includes two Ultra-low Dispersion (UD) elements and one Super UD aspheric element, to minimize chromatic aberration and color blurring. The lens is sure to be a workhorse in delivering consistently sharp images. Of course, the lens also features Canon's Super Spectra coating, which reduces glare and promotes a healthy color balance. Additionally, a fluorine coating effectively reduces traces of dust, dirt and fingerprints that stick to the front and back of the lens, helping to maintain optimal image quality.
The EF 24-70mm f/2.8L II USM will allow photographers to capture their subjects up close, with a minimum focusing distance of 0.38m at all focal lengths throughout the zoom range. An Ultrasonic Motor (USM) works in tandem with a high-performance CPU and advanced AF algorithms to guarantee accurate, silent and super-responsive autofocus. For the photographers who prefer full control of every shot, the built-in manual focusing allows the flexibility for tweaking and modifying the focus at any time.
Structurally, the EF 24-70mm f/2.8L II USM is the latest lens from the elite L-series to offer Canon's high-grade and user-focused design enhancements. The lens has been updated to offer enhanced zoom durability and greater shake- and shock-resistance within the lens barrel.
The size of the lens has also been reduced by 10mm compared to the previous model, providing enhanced portability and mobility for everyday usage. A new Zoom Lock lever also allows photographers to lock the zoom position to prevent damage to the lens in transit. In addition, this lens is constructed to be waterproof and dustproof, which allows the user to shoot in harsh conditions.
Read more about the Canon new EF Lenses at BH InDepth
About B&H Photo Video
As the world's largest source of photography, video and audio equipment, B&H Photo-Video is known worldwide for their attentive, knowledgeable sales force, and excellent customer service, including fast, reliable shipping. Visitors to the website can access a variety of enlightening articles and educational videos. B&H has been satisfying customers worldwide for over 35 years.
###