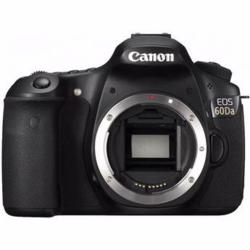 B&H Photo Video is excited to share with professional photographers the release of the Canon 60Da DSLR camera which features a host of updates and improvements for shooting long-exposures and deep-sky astrophotography
New York, NY (PRWEB) April 03, 2012
B&H Photo is excited to share with professional photographers the release of the Canon 60Da DSLR camera which features a host of updates and improvements for shooting long-exposures and deep-sky that will enthuse professional photographers who are serious about long-exposures and deep-sky astrophotography.
The 60Da DSLR camera has been specifically redesigned for astrophotography right out of the box. So whether a photographer wants to use live preview on the pivoting display to get the composition of a constellation just right, or record the next meteor shower in stunning HD video, the EOS 60Da takes these fantastic features, among many others, and shoots for the stars.
B&H Photo Video is now accepting pre-orders on Canon 60Da DSLR camera
With features like manual exposure control, the option to attach on any of the Canon EF or EF-S lenses, and various audio adjustments--including an external stereo mic connection, and both manual and auto gain control--the Canon 60Da puts DSLR film-making at your fingertips. With the built-in 1920 x 1080 HD video resolution users will be able to capture MOV video clips up to 4GB in size (time depends on resolution). Other noteworthy features of the video function include in-camera editing, a number of other recording resolutions to choose from, and an HDMI output for one-cable connection to your HDTV.
Learn and research the Canon 60Da astrophotography camera at BH InDepth
Modified Infrared Cut Filter
Canon has altered the filter to provide the Canon 60Da with greater infrared light sensitivity and enabled it to achieve hydrogen-alpha light transparency. Hydrogen-alpha, also referred to as H-alpha or Hα, is a very specific red visible spectral line created by hydrogen with a wavelength of 656.28nm. This red visible line in the spectrum occurs when hydrogen electrons fluctuate between the second and third-tiered orbits (or energy levels) of a hydrogen atom (according to the Balmer Series). When they move between these levels they absorb or release energy; and this emission and absorption of energy occurs at 656nm. The IR cut filter modification of the 60Da helps to allow as much light as possible to pass through this narrow bandwidth at the H-alpha frequency.
About B&H Photo Video
As the world's largest source of photography, video and audio equipment, B&H Photo-Video is known worldwide for their attentive, knowledgeable sales staff, and excellent customer service, including fast and reliable shipping. Visitors to the website can access a variety of enlightening articles and educational videos. B&H has been satisfying customers worldwide for nearly to 40 years.