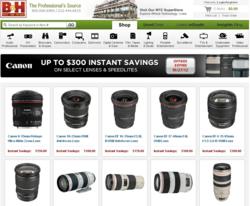 B&H Photo Video is pleased to share with photography enthusiasts the updated Instant Savings on Canon Lenses and Speedlites.
NYC, NY (PRWEB) October 19, 2012
B&H Photo Video is pleased to share with photography professionals and enthusiasts the newest Canon instant savings on lenses and speedlites.
Save $300 on the popular Canon EF 70-200mm f/2.8L IS II USM Telephoto Zoom Lens, one of the most acclaimed lenses in the Canon EF line, with superior performance, increased speed and optical quality. Save $200 on Canon EF 70-300mm f/4-5.6L IS USM Telephoto Lens.
Also save $150 on Canon EF 8-15mm f/4L USM Fisheye Ultra-Wide Zoom which delivers 180° diagonal angle of view images for all Canon EOS SLR cameras, with imaging formats ranging from full-frame to APS-C. When the lens is used with full-frame cameras, one can choose between a circular fisheye image or full-frame image, by using the zoom.
When used with EOS bodies featuring APS-C or APS-H sensors, the lens produces a more traditional, full-frame fisheye view. A zoom-lock mechanism on the lens body allows the range to be limited to the focal length that ensures the best possible full-frame view, without unsightly vignetting around the edge. 'C' and 'H' markings can be found next to the zoom operation ring, indicating the wide-angle zoom position where vignette-free shooting is possible with either sensor. For filmmakers and photographers who want the look and feel only possible with extreme wide angle and fisheye photography, the Canon EF 8-15mm f/4L Fisheye USM is a world-class choice.
About B&H Photo Video
As the world's largest source of photography, video and audio equipment, B&H Photo-Video is known worldwide for their attentive, knowledgeable sales staff, and excellent customer service, including fast and reliable shipping. Visitors to the website can access a variety of enlightening articles and educational videos. B&H has been satisfying customers worldwide for nearly to 40 years.