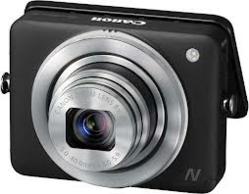 Canon has announced four new PowerShot digital cameras as part of the Consumer Electronics Show, including the uniquely designed 12.1 MP PowerShot N camera.
NYC, NY (PRWEB) January 07, 2013
The new Canon PowerShot N, now available for pre-order at B&H Photo, opens a new dimension of photographic expression, helping people's creativity bubble to the surface. The Canon PowerShot N offers Creative Shot, a new imaging mode that intuitively analyzes an image and automatically creates a series of five artistic photos of the original with varying composition, lighting and color for an array of options that are ready to impress. In addition, the new PowerShot is equipped with enhanced wireless capabilities that connect the camera to a variety of mobile devices instantly, so users can upload and comment on their images while on-the-go.
In addition to offering powerful artistic and connectivity functions, the PowerShot N features a 2.8-inch capacitive, tilt-touch panel LCD, allowing users to capture creative images at unique angles. With a shutter and zoom ring, both located on the top and bottom of the lens, images can be snapped from virtually any position so the perfect shot is always within reach.
Canon PowerShot N offers an 8x optical zoom and a 28mm wide-angle lens, packaged with a 12.1megapixel High-Sensitivity CMOS sensor and DIGIC 5 Image Processor, so your moments can be captured and preserved in stunning quality. Users can also record beautiful 1080p Full HD video with a dedicated movie button, so life's moving moments are not missed. With the built-in Hybrid Auto and Face ID systems, pin-sharp focus can be achieved quickly and easily while the camera automatically recognizes and focuses on familiar faces. For the ultimate in shooting convenience, Canon's Intelligent IS System allows the camera to automatically select the optimal image stabilization settings according to the shooting conditions, taking the guesswork out of identifying the ideal setting for each unique shot.
PowerShot ELPH 130 IS Digital Camera
Canon PowerShot ELPH 130 IS, A2600, and the A1400 digital cameras to capture emotions and memories to share in stunning quality. To give consumers a simple, yet enhanced image sharing experience, Canon's built-in wireless functionality has evolved with new options that help make posting on social networking sites easy. Also for users who are constantly on the move, each of the new camera models are outfitted with ECO Mode, a new feature that provides approximately 30 percent longer battery life when enabled, allowing them to shoot more photos for a longer amount of time.
The new Canon PowerShot models have advanced features that give photographers an enhanced high-quality imaging experience allowing them to fulfill their day-to-day photography needs, express their vision and tell their story with ease, at a great value.
Additionally, with features such as an ECO Mode to help conserve battery life, an 8x-Optical Zoom with 28mm wide-angle lens, and 16-megapixel sensor with a DIGIC 4 Processor, the PowerShot ELPH 130 IS digital camera is a stylish, versatile and easy-to-use camera with advanced technologies for a great shot any time. Adding to its appeal, the camera also features Smart AUTO, which provides an effortless way to get great images in many situations. The 3-inch LCD screen and Intelligent IS also makes photographing easy, with a compact and sleek design. The PowerShot ELPH 130 IS digital camera is available for pre-order at B&H Photo Video.
Canon PowerShot A2600 Digital Camera
The PowerShot A2600 digital camera is an ideal user-friendly camera that creates high-quality images. It features a 16-megapixel sensor and 5x-Optical Zoom 28mm wide-angle lens to capture memories that last a lifetime. To make shooting simple, Smart AUTO automatically recognizes and chooses the best settings for 32 common shooting scenarios. 720p HD video is also available with a dedicated movie button to make memories come alive in vivid, lifelike detail. For users that are accustomed to the hustle and bustle of daily life, but looking to treasure those busy moments, the PowerShot A2600 digital camera also comes equipped with a new ECO mode that assists with battery conservation by turning off the 3.0 inch LCD screen when idle. In addition, Digital IS reduces the effect of camera shake and subject movement to help produce crisp, clear images. The PowerShot A2600 digital camera is currently available for pre-order.
Canon PowerShot A1400 Digital Camera
With an optical viewfinder, 16-megapixel sensor with a DIGIC 4 Processor, the PowerShot A1400 digital camera gives even the novice photographer the ability to capture spectacular images with ease. The 28mm wide-angle lens with 5x optical zoom aids in capturing great shots from a distance. The PowerShot A1400 digital camera is also equipped with HD Video, and ECO Mode that gives users a camera that is full of features, yet easy to use and economical, allowing for a high-quality imaging experience at a great value.
Connect with B&H Photo on the web! (Facebook, Twitter, Tumblr, Google+, Pinterest, Flickr, YouTube, B&H Insights & InDepth)
About B&H Photo Video
As the world's largest source of photography, video and audio equipment, B&H Photo-Video is known worldwide for their attentive, knowledgeable sales force, and excellent customer service, including fast, reliable shipping. Visitors to the website can access a variety of enlightening articles and educational videos. B&H has been satisfying customers worldwide for over 35 years.