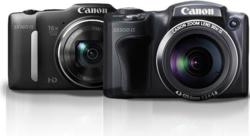 B&H Photo Video is pleased to share the launch of the Canon SX500 IS and SX160 IS PowerShot digital cameras.
NYC, NY (PRWEB) August 21, 2012
B&H Photo Video is pleased to share the launch of the Canon SX500 IS and SX160 IS PowerShot digital cameras.
Canon has announced the release of two new point-and-shoot cameras in their popular PowerShot line: the SX500 IS and the SX160 IS. Both of these cameras include a 16 megapixel CCD sensor, DIGIC 4 image processor, and are capable of recording high-definition video at 720p resolution. They also feature impressive optical zoom ranges and they integrate an Optical Image Stabilizer to minimize camera shake and blur for working at longer focal lengths.
The PowerShot SX500 IS Digital Camera from Canon has a 24mm wide angle lens with an incredible 30x optical zoom. This is enough zoom power to shoot almost anything one could imagine, from wide angle expanses to ultra-telephoto close-ups. And with the image quality of the 16MP CCD sensor and high-end performance from the DIGIC 4 image processor, whatever you can imagine will be reproduced in gorgeous colors, sharp focus and accurate exposure. The SX500 is that good. Quality is guaranteed. And so is speed. Autofocus speeds have been improved from earlier models to ensure one won't miss a shot and enhanced Zoom Framing Assist enables focus tracking and capture while shooting in the super-telephoto ranges that the 30x zoom allows.
The Canon SX160 (available in red and black) is a bit more compact in size and has slightly less of a zoom range at 16x; which is equivalent to 28-448mm in 35mm format. The SX160 also integrates an Optical Image Stabilizer for reducing camera shake at any focal length.
In addition to an optical stabilizer, both cameras also feature Intelligent IS, which automatically chooses from six different modes to optimize stabilization settings depending on the conditions in which you are photographing. These modes include Normal, for general reduction of camera shake; Panning, which overrides the OIS due to intentional camera movement; Hybrid, which corrects for shift-type shake that is common when working in macro situations; Dynamic, for working in video or other situations where movement is more fluid; Powered, which makes up for handheld shake when working at the longest end of the zoom range; and Tripod, for disengaging OIS since it is not required on a tripod.
Imaging Performance
In regard to imaging power, both the SX500 IS and SX160 IS incorporate a 16 megapixel CCD sensor along with a powerful DIGIC 4 image processor. The combination of these elements lends itself to quickened camera performance and permits impressive image quality as well as the ability to record 720p HD video. To further aid in producing high-quality imagery, Smart AUTO can select from 32 predefined shooting situations and apply image adjustments to improve the look of your photographs or video. By assessing the conditions in which you are working, Smart AUTO can apply settings to help render portraits, close-up work, low-light shooting or a wide array of other common situations you are likely to encounter.
Both cameras incorporate a large 3.0" LCD for image composition and review. For even greater photo and video playback, there is an HDMI output for relaying your imagery to an HDTV for group viewing.
Read and learn more detail information about the Canon SX500 IS and SX160 IS PowerShot digital cameras at BH InDepth.
Connect with B&H Photo on the Web! (Facebook, Twitter, Tumblr, Google+, Pinterest, Flickr, YouTube, B&H Insights & InDepth)
About B&H Photo Video
As the world's largest source of photography, video and audio equipment, B&H Photo-Video is known worldwide for their attentive, knowledgeable sales force, and excellent customer service, including fast, reliable shipping. Visitors to the website can access a variety of enlightening articles and educational videos. B&H has been satisfying customers worldwide for over 35 years.