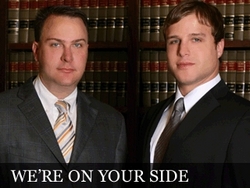 $200,000.00 in past due benefits collected so far in 2010
Canton, TX (PRWEB) October 3, 2010
Today, The Elliott Law Firm announced that it collected well over $50,000.00 in past due benefits for their clients during the past three months, which brings the total to $200,000.00 in past due benefits collected so far in 2010.
Based in Canton, Texas, The Elliott Law Firm represents Social Security Disability clients throughout East Texas, and has represented clients in disability hearings in Nacogdoches, Tyler, Dallas North, Dallas Central, and Ft. Worth during the last three months.
According to The Elliott Law Firm, claimants greatly increase their chances of getting benefits when they hire an experienced Social Security attorney to handle the claim. In addition, there are many time-sensitive deadlines associated with the Social Security Disability Benefits process, so it is best to have an experienced attorney managing the process as soon as possible.
Have you been denied Social Security Disability benefits in Texas? Call the Texas Social Security Disability attorneys at The Elliott Law Firm today at (903) 567-6622 for a free consultation. The Elliott Law Firm does not charge a fee until they win your case and recover the Social Security benefits you deserve.
###