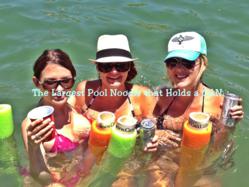 We are excited to annouce the long awaited creation of the largest pool noodle that holds a beverage.
Waynesville, Ohio (PRWEB) February 21, 2013
CanUdle, announces and releases its newest, largest pool noodle cup holder creation for spring breakers everywhere. The CanUdle is a new product created for fun, water, and drinks. A CanUdle is the perfect way to keep beverages cold, hands free, and still have fun relaxing in the water during spring break this year.
The CanUdle is the largest and sturdiest pool noodle on the market that will hold a can, red solo cup, water bottle or beer bottle. The CanUzie that fits into the end of the CanUdle will hold the beverage upright with ease, giving the customer a hands free experience and personal cup holder in the water.
Thousands of travelers will be heading to water locations for spring break over the next several weeks. Traditionally, spring break is a time to head to warm and tropical locations to have fun in the sun. With the CanUdle's timely launch into the market place, the product is serving as a convenience and necessity for adult water goers everywhere.
The creator of the CanUdle, Leslie Darling Tatman, says, "We are so excited to announce the creation of the CanUdle this year right before the 2013 spring break season. The long sought after product is American made and we are proud to provide such an amazing water invention that is storming the adult fun in the water scene."
CanUdle was founded in 2012 and will be shipping nationwide this spring break season. Purchases can be made directly from the company website.
About CanUdle:
CanUdle was founded in 2012. CanUdle is woman owned and operated out of Waynesville, Oh. The company started out with a mission to provide fun products to those that have an excitement for water, swimming, and fun with friends and family. To learn more visit http://www.canudle.com.