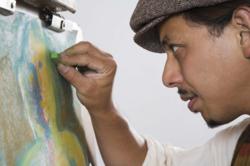 It's a grassroots movement calling on and supporting Melbourne's artists and artistic culture
(PRWEB) October 04, 2012
GEMEL Art Supplies of Moorabbin, Victoria, is putting out one last call for all entries for its Kingston Voyages Contest, linking art with social media and letting the people be the judge. 
The competition, which runs until 20 October, will be accepting entries through its Facebook page, http://www.facebook.com/GemelArt, via photographs submitted from contestants. 
"It's a fun, new approach to get the people involved on higher level," said Rani Samant, co-director of GEMEL Art Supplies.
The rules are simple: Artists are asked to take a photo of their best artworks and post the photos to the GEMEL Art Facebook page. The photo with the most likes, wins. And the winnings are big.
Among the prizes for first place, the winner will receive will receive a $200 cash prize; $500 worth of professional quality art canvases from GEMEL Art Supplies; and a song composed and performed with reference to the winning artwork at the Voyages Concert. The concert was setup as a mesmerizing tribute to Melbourne's diversity in Kingston City Hall on 27 October 2012 at 7:30 p.m., with the winning artwork on large display behind the band.
The Voyages concert honours the cultural life in the city of Kingston, celebrating the diverse music, dance, spoken word and visual arts that make Melbourne unique.
The four runners-up will also have their artworks on display at the Kingston Voyages concert and will receive a cash prize, among other winnings.
The Kingston Voyages Art Competition has no age limit, though it does require that all contestants like GEMEL ART on Facebook in order to participate. Contestants should either be a current art student or an aspiring artist with an online portfolio hosted on other sites.
"It's a grassroots movement calling on and supporting Melbourne's artists and artistic culture," said Mrs Samant. "And GEMEL Art Supplies is proud to support and encourage such a movement."
GEMEL Art Supplies, which started in 2001, manufactures the finest quality stretched canvases for professional artists, both ready-made canvases and by request, as well as frames made from Australian pine wood and a range of other art supplies at affordable prices. The company grew from a home-base business into the thriving art supplier it is today thanks to its devoted and loyal customer base.
GEMEL Art Supplies is wishing all its contestants good luck as the competition approaches its last few days. 
"We're about the artists, and this competition is about the artists," said Mrs Samant. "It's a celebration of art, but most of all it's thank you to all the talents out there in Melbourne."
For more information about the contest, please refer to the GEMEL Art Supplies contest homepage at http://www.gemelart.com.au/Win.html, or refer to its Facebook page at http://www.facebook.com/GemelArt. GEMEL Art Supplies is located at 27 Roberna Street, Moorabbin, Victoria.