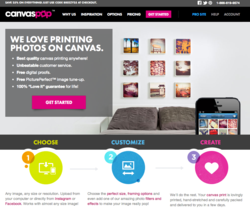 "We see crowdsourcing as one of the best ways to inspire innovation at CanvasPop, our customers have brilliant ideas and we're always amazed with how they display their art." -Adrian Salamunovic, co-founder, CanvasPop
New York, NY (PRWEB) September 27, 2012
CanvasPop, the Web's # 1 choice for quality canvas printing, today unveiled their completely redesigned website, http://www.canvaspop.com, featuring a fresh new look and customer submitted content.
Since launching in 2009, CanvasPop has focused primarily on product innovation and development, and was the first company to print Instagram photos on canvas, a service that has taken off over the past year and now accounts for 20% of CanvasPop's sales.
The new CanvasPop website features a clean, modern design and incorporates a range of colors and design elements. The overall look is designed to appeal to CanvasPop's target market, while maintaining the level of trust and professionalism that sets CanvasPop apart in the marketplace.
A major element in CanvasPop's new site design is the 'Pinterest-like' Inspiration Gallery – a sleek and easy-to-navigate gallery of customer submitted photos and testimonials, designed to inspire visitors by showcasing quality canvas printing ideas in a natural setting.
"We see crowdsourcing as one of the best ways to inspire innovation at CanvasPop, our customers have brilliant ideas and we're always amazed with how they display their art and the creative concepts they come up with," said Adrian Salamunovic, co-founder, CanvasPop.
"Our Inspiration Gallery is all about showcasing our customers and allowing them to share what they have created."
To celebrate this exciting milestone, CanvasPop is hosting a major contest and giveaway, awarding one lucky winner a $1,000 Home Art Makeover!