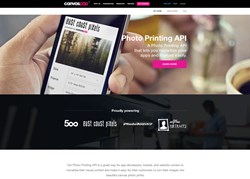 "There are tens of thousands of apps and other than the initial sale, app developers have very few ways to monetize them. The API will offer them an opportunity to generate ongoing revenue." -Adrian Salamunovic, CanvasPop Co-founder
New York, NY (PRWEB) September 17, 2013
CanvasPop, the web's leading provider of quality canvas prints, today announced the launch of its photo printing API.
The CanvasPop photo printing API allows app developers, website owners and brands to monetize their visual content by making it easy for their customers to turn images into beautiful canvas photo prints.
The API will launch in partnership with 500px, who last month raised $8.8M from Andreessen Horowitz and Harrison Metal, as well as East Coast Pixels, who currently have six photo apps. These two partnerships represent access to millions of users from the onset.
According to Suite 48 Analytics, there are over 33,000 photo related apps across the Apple and Google app stores. There is a burgeoning demand for increased capabilities and options resulting from the powerful camera technology now common on smartphones and tablets.
"We're seeing huge demand for mobile photo content to be developed," says CanvasPop Co-founder, Adrian Salamunovic. "There are tens of thousands of apps and other than the initial sale, app developers have very few ways to monetize them. The API will offer them an opportunity to generate ongoing revenue."
Only 5% of photo apps currently have printing options included as one of their features. This represents a huge opportunity for CanvasPop, who estimates the market size at over 100M in revenue.
CanvasPop recognized early on that there was a demand for printing digital content. The company was the first to use Instagram's API for large format printing, when they launched Instagram Canvas Prints in 2011. The product now accounts for roughly 20% of CanvasPop's overall sales.
"We have focused for years on creating a remarkable customer experience while building systems that could scale. We are now excited to offer application owners the opportunity to seamlessly extend the CanvasPop experience to their users," says CanvasPop Co-founder, Nazim Ahmed.
Learn more about the CanvasPop photo printing API here: http://www.canvaspop.com/photo-printing-api.
About CanvasPop
CanvasPop is the web's most innovative provider of custom, high-quality canvas printing services. CanvasPop empowers photographers, digital artists, interior designers and everyday customers to reproduce their photos to the best quality canvas prints. CanvasPop allows anyone to print their Facebook photos, iPhone and Instagram pictures, at virtually any size regardless of the original resolution of the image. CanvasPop's goal is to provide both consumers and professionals with the easiest way to print any image on canvas. CanvasPop has printing and distribution facilities in the United States and Canada.