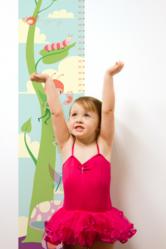 My kids ask my wife and I at least once a week to measure them to see how much they have grown. They love it
Round Rock, TX (PRWEB) December 06, 2012
Canvas Press recently launched their brand new growth charts, allowing families and gift givers to choose from over 50 designs that will fit the style of both the child and the family. Canvas Press offers designs that fit both boys and girls along with neutral growth chart designs for families with multiple kids.
"I have a growing family myself," stated Canvas Press owner, Doak Walker. "We wanted to put some fun, whimsy, and creativity into our growth charts. We believe our designs will provide fond memories for many families. I know it already has in my home." Walker continues to say, "My kids ask my wife and I at least once a week to measure them to see how much they have grown. They love it."
Each growth chart will measure up to six feet and is easy to install using Canvas Press' EasyStick! material. The EasyStick! material is repositionable up to 100 times. The growth chart is also very easy to remove from the wall. So if you need to move the chart or when it is time to take it down you can take those memories with you rather than painting over them.
"We thought about the parents and the children when we were designing the growth charts. Our goal is for each growth chart to have a dual purpose, as a measuring tool and as a piece of artwork that a child along with Mom and Dad can enjoy for many years," states Eric Von Lehmden, Director of Marketing for Canvas Press.
With quality and customer service at the forefront, Canvas Press prides itself in making sure each customer is taken care of with an easy order process and quick turnaround for each order. "Quality and customer service are our hallmarks. We take pride in giving each of our customers the experience they deserve," states Doak Walker.
The designer growth charts are shipped in two to three days once the order is finalized and will come ready to hang. Canvas Press can ship anywhere in the Unites States and to military bases around the globe.
Anyone interested in learning more about Canvas Press and their growth charts, can visit http://www.canvaspress.com/growth_charts.html. Like us on Facebook and follow us on Twitter for special discounts and promotions. If you have specific questions about starting your wallpaper project you can contact Canvas Press directly at 888.784.5553.