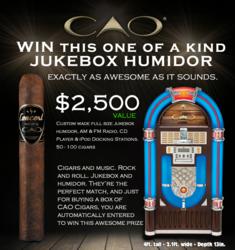 Any box purchase of CAO available at Mike's Cigars is eligible to win.
MIAMI (PRWEB) May 09, 2013
Mike's Cigars is a designated participant in the CAO Jukebox Humidor Sweepstakes Giveaway. From May 1 to June 30, 2013, customers of Mike's Cigars will be automatically entered in the sweepstakes when they buy any one box of CAO Cigars.
A $2,500 value, the CAO Jukebox Humidor is a custom made full size Jukebox with Humidor, AM and FM radio, CD player with iPod docking stations that also holds 50 to 100 cigars for proper storage and optimum preservation of premium cigars.
Inspired by the CAO Concert cigar line which is an homage to music with names like Stage, Roadie, Solo, and Amp, CAO thought a jukebox with a built-in humidor was the perfect match, much like cigars and music. Other CAO Cigars to choose from are CAO America, CAO Brazilia, CAO Cameroon, CAO Criollo, CAO Gold, CAO Gold Maduro, CAO Italia, CAO Lx2, CAO Maduro, CAO Mx2 and CAO OSA Sol.
Also eligible for entry in the sweepstakes are any box of CAO Flavours such as Bella Vanilla, Caramelo Joe, Cherrybomb, Earth Nectar, Eileen's Dream, Gold Honey, Karmasutrasplash, and Moontrance Cigarillos, Full-Size Cigars, Small Cigars and Tubos.
"Some lucky person will not only receive a box of the tastiest cigars from CAO, but also get the awesome CAO Jukebox Humidor to keep. I wish it was me," said Mike's Cigars flagship store manager, who added that her favorite cigars right now are the CAO Flavours, particularly the Gold Honey and the Cherrybomb. "Traditionally I like classic cigars, but then discovered that flavor infused ones are a true treat!"
"When Saint Patrick's Day rolled around I found that people were suddenly asking for the Eileen's Dream, so I had to try one and see what they were all about. I would love to have a Jukebox Humidor in the Mike's Cigars brick and mortar store. What a showpiece that would be!"
Any box of any type of CAO Cigars is eligible at Mike's Cigars, and one entry is awarded per box purchased. Multiple entries are allowed at one per box for more chances to win the Jukebox Humidor. Mike's Cigars and its customers are designated as a Drawing Pool by CAO for the contest. One Jukebox will be given away per Drawing Pool. Mike's Cigars also stocks CAO Cigar Samplers, although these are not eligible for entry into the contest.
CAO is recognized among cigar lovers for superb quality, innovative product development and unique packaging. Their premium hand-rolled cigars are enjoyed by connoisseurs worldwide and have received top ratings from industry experts. The CAO La Traviata Divino was ranked among Cigar Aficionado's 2010 Top 25 Cigars. 
Mike's Cigars is a family owned and operated company since 1950 with mail-order catalog service, online ordering and both B2B wholesale and B2C retail customers. Mike's Cigars also operates its flagship brick and mortar store in Miami's Bay Harbor. A top tier cigar megastore, the company offers over 1,000 brands of premium cigars in addition to cigar lifestyle accessories, both in store and online at http://www.mikescigars.com.
Visit http://www.mikescigars.com/cao-jukebox-sweepstakes for more information and sweepstakes rules.