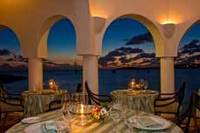 "Number one Caribbean resort and number three Worldwide," -- 2009 Andrew Harper's Hideaway Report
Anguilla, BWI (Vocus) March 15, 2010
Visit the Caribbean island of Anguilla for Cap Juluca's Spring Gastronomical Celebration -- April 24 & 25. Cap Juluca's culinary weekend of wonder will begin with a wine dinner on Saturday evening at Pimms restaurant overlooking the Caribbean sea. It will continue with an intimate wine tasting on Sunday afternoon and conclude with a second, unique wine dinner at Spice on Sunday night.
Cap Juluca will welcome acclaimed Chef Nitzi Rabin, chef and owner of Cape Cod's historic and award-wining restaurant, Chillingsworth, rated as one of the Top Forty Restaurants in America by Gayot.com. Chef Nitzi's sumptuous French and American cuisine inspired The New York Times and countless other publications to acknowledge Chillingsworth as the best restaurant on Cape Cod and the Boston area. Chef Nitzi, himself, has been honored time and again, winning the coveted 4-Star award from Mobil, being named as one the Top Ten American Chefs by Gourmet magazine and selling out events at The James Beard House in New York. Chef Nitzi will team up with Cap Juluca's Executive Chef Johnny Clero to create palate-pleasing cuisine your senses will not soon forget.
No great gastronomical celebration would be complete without the proper pairing of wine. Joining Chef Nitzi and Chef Clero will be Rob Sinskey from Robert Sinskey Vineyards, Napa, CA. Vintner, Rob Sinskey creates wines with the belief that food and wine are meant to go together. That wine should enhance the dining experience, not eclipse it. And that, when done right, each pairing will result in expressive tastes that celebrate the whole meal. In addition to hosting a wine tasting of his 2007 Perfect Circle Pinot Noirs on the afternoon of the 25th, Mr. Sinskey will present the perfect wines to complement Chefs Nitzi's and Johnny's culinary creations at the two unique wine dinners.
The Spring Gastronomical Celebration is a great way to kick off a week's worth of Caribbean adventure at Cap Juluca. Please note that seating and room reservations are limited for this event. Room rates start at $595 per night. To learn more, reserve your room or your place at the table, call 888-858-5822 or 264.497.6779. And to learn about other packages at Cap Juluca, including the incredible golf packages at the Temenos Golf Course now managed by Cap Juluca, call 888-858-5822, 264.497.6779 or contact your travel professional.
About Cap Juluca
Insulated from the outside world, yet only minutes by air or boat from St. Maarten, Cap Juluca resort is a private self-contained enclave on Anguilla in the British West Indies, situated along two miles of the most pristine white sand beaches in the Caribbean. Offering a spectacular private getaway, Cap Juluca's spacious Moorish villas with 97 luxurious suites and bedrooms, five-star restaurants, exotic landscaped tropical gardens, and friendly and gracious service professionals provide an unparalleled level of luxury. Cap Juluca now extends their unparalleled level of luxury to the Temenos Golf Course, Anguilla's first and only 18 hole golf course, a $50 million creation of Greg Norman which is now managed by Cap Juluca. For a great Caribbean golf experience, Anguilla golf is now back in play!
During season, the resort's guest list reads like a who's who of the social registry, but with a staff to guest room ratio of four to one, the intuitive service is unparalleled. Its ambiance is intentionally romantic, with surreal vistas during the day. With a ban on cruise ships, casinos and high-rise buildings, guests escape to the sun kissed sanctuary of Maundays Bay, offering anonymity for the affluent. Intimate dinners for two, romantic walks on secluded beaches and swift, sweet plunges into the tranquil surf are daily occurrences.
For more information on Cap Juluca call 888.858.5822, 264.497.6666 or visit http://www.capjuluca.com .
###