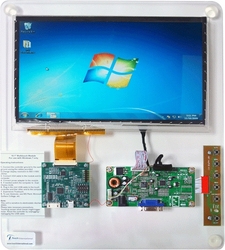 MulTI-Touch resolves all of the limitations that users experience with traditional projected capacitive touch technologies.
Austin, TX (PRWEB) June 29, 2010
Touch International, a leading touch screen manufacturer specializing in custom touch screen designs, announced today the release of MulTI-Touch, the most advanced multi-touch projected capacitive technology available in the market to date. Expanding traditional touch screen capabilities, the Windows 7 compatible MulTI-Touch technology supports up to 10-finger touch and works with water spray, bare and gloved fingers and pen input making it a versatile choice for countless interactive applications.
"MulTI-Touch is a very exciting technology because it resolves all of the limitations that users experience with traditional projected capacitive touch technologies," explains Robert Spencer, Vice President of Sales for Touch International. "MulTI-Touch is the only projected capacitive technology that works with gloved finger, pen input and water spray, allowing users to integrate it into applications that were previously unable to use touch screens."
Touch International's MulTI-Touch sensors deliver outstanding optics and responsive performance, even in extreme environments, and its flexible capabilities make it an excellent fit for military, medical and industrial applications, as well as for outdoor uses. MulTI-Touch technology allows for advanced design flexibility, making it easy to customize touch screens for specific applications and design requirements.
Touch International's MulTI-Touch technology is now available in 10.1" screen sizes with additional formats expected by Q3 2010.
MulTI-Touch Features Include:
§ Signature Capture Capable
§ Windows 7 Compatible
§ Works with Environmental Water Spray
§ True Touch With Gesture (No Ghost Points)
§ Works with up to 3mm Thick Glass or Plastic Cover Glass
§ Hardware and Firmware Can be Modified to Meet Stringent EMI Standards
About Touch International
Touch International, headquartered in Austin, Texas, is a world leader in touch screen technology and EMI filters. Specializing in the design and manufacturing of custom touch screens, Touch International combines the latest resistive and capacitive touch screen technologies with display enhancements to deliver high quality, standard and custom touch screens to customers around the world. Founded in 2002, by Michael Woolstrum and Gary Barrett, Touch International operates seven manufacturing facilities with 1,200 employees worldwide with its partner DMC, Co. Ltd. Touch International's China factories manufacture Apple iPhone-type projected capacitive touch screens, resistive sensors and glass filter products used in touch screens, EMI and anti-reflective filters.
###