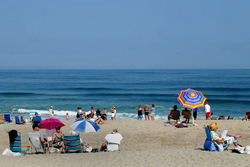 The name of the game is impressions
Cape Cod, MA (PRWEB) January 27, 2009
MoreBeach.com, the leading provider of Cape Cod beach information, announces "Fully Wrapped" Vacation Advertising for Cape Cod area rental homes, hotels and resorts. The website now offers listings for vacation rentals and lodging alongside comprehensive information on beaches and activities. Visitors come to MoreBeach.com for every stage of a Cape Cod beach vacation, from early planning, while on the vacation itself and after it becomes a memory. Users see ads and listings at MoreBeach.com in the context of how and where they spend their time rather than only where they sleep at night. MoreBeach says that its beaches database, forecasts and activities content increase the perceived value of vacation properties and boost response rates. MoreBeach.com listings can be integrated with other listings and existing websites.
According the company the cost of acquiring a visitor with a MoreBeach.com listing is much lower than the cost of Google Adwords and other rental websites. Listings cost $95/year and the company guarantees that advertisers will be satisfied or the cost of the ad will be refunded. The fee is discounted for agents with multiple listings.
This year MoreBeach is promoting itself with a TV ad campaign on NECN, online ads and publicity campaigns with feature stories and events like the MoreSummer photo contest. According to Google Analytics, in 2008, MoreBeach.com enjoyed 1,380,370 page views from nearly 200,000 unique visitors. The company is planning to triple that traffic in 2009.
Company founder Mike Marks says that listings at MoreBeach.com work even better if a property already has a website or a listing with another provider. "The name of the game is impressions," says Marks, "The more times a user sees your property the more likely she is to commit to it. What MoreBeach does is it hits a potential guest at the earliest stage of vacation planning, when he or she is deciding on where to go. Then, as the planning becomes more serious MoreBeach provides information on what a family can do when it gets to its chosen spot. When the vacation begins MoreBeach delivers forecasts and news useful for planning each day. And when the vacation is over they come back to look at images and read stories about where they were. We give beach vacationers multiple reasons to return again and again to our site. On every visit, they like to check out the rental homes, hotels and resorts - first to choose one for this year, then to compare with what they've chosen and finally to consider for next year."
Learn more about MoreBeach.com's "Fully Wrapped" advertising for Cape Cod house rentals, hotels, inns, and resorts at MoreBeach.com//advertising_information.html
MoreBeach.com is dedicated to providing comprehensive information for Cape Cod beach vacations, day trips, activities and more. The website features images and descriptions of over 250 Cape Cod beaches, ponds, landings and boat ramps, a live webcam overlooking Eastham's Coast Guard beach, surf forecasts, beach news, blogs, photo contests, online community, directory of businesses and services and more.The company's staff spends a little time at the beach every day of the year, in good weather and bad, winter, spring, summer and fall. Beaches are their passion. Their philosophy is simple:
"More beach is better."
# # #