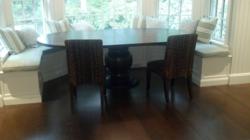 Barnstable Town, MA (PRWEB) November 07, 2012
Toby Leary Fine Woodworking is excited to announce the launching of their new division, "Block and Table." From personalizing cutting boards, to creating beautiful and functional custom wood countertops, to handcrafting custom tables, this woodworking company can help homeowners create a beautiful design that will not only last a lifetime but also be passed from generation to generation.
"Due to popular demand, our company has designed and built many custom countertops, islands, tables, and cutting boards, so we decided to make these products available worldwide," says owner Toby Leary.
Nothing captures the attention quite like a dramatic custom table or impressive wood countertop. Homeowners are impressed by the raw beauty, unique style, and artistic craftsmanship found in these products that are durable and gain character with age.
Ten years ago, granite was all the rage, but today designers and homeowners are looking for different materials to create a kitchen that is distinct, fresh, and current, both visually and functionally. Wood can present interesting visual detail either through the choice of wood species and/or the use of contrasting wood types and stain colors. Warmth, durability, beauty, and longevity are some of the benefits of wood countertops.
Natural wood countertops also have the advantage of being one of the most effective antibacterial surfaces in a kitchen due to the presence of naturally occurring antimicrobial substances in the wood grain. Butcher block countertops are so named, in fact, because of their popularity with butchers, who appreciate their extraordinary durability and sanitary properties. Homeowners can even choose reclaimed wood or wood harvested from sustainable and managed sources to bring some eco-conscious choices to their kitchen design.
Custom tables can double as functional furniture and works of art. After all, a table ought to be a conversation piece. The possibilities are endless; custom tables can be crafted from a wide variety of wood to compliment any home décor. These high quality handcrafted objects are resilient and only get better with a naturally aged patina.
Custom cutting boards with a personalized CNC carved name or logo can also make a statement as a decoration on the kitchen counter. Smaller boards can be shown off while serving appetizers such as cheese or fruit and larger boards are wonderful for carving and as a platter for serving meals. A monogrammed cutting board also makes a fabulous, one-of-a-kind gift that will be remembered.
With only a handful of specialty wood surface experts in the marketplace, Toby Leary Fine Woodworking, using their unique knowledge and expertise, can give customers the kitchen of their dreams with their new line of specialty products. For more information about this company and their new product line, call (774) 836-5571, visit their website at, http://www.tobyleary.com or e-mail toby(at)tobyleary.com.
About Toby Leary Fine Woodworking
With an A+ rating from the Better Business Bureau, Toby Leary Fine Woodworking is a full-service design, construction and building company specializing in high-end finish trim and custom casework. Established in 2003 by Toby Leary, the business has grown and is now operating out of an 11,000 square-foot facility at its headquarters in Hyannis, Massachusetts. Toby Leary Fine Woodworking is the area's direct source for fine architectural and woodworking services. Their staff includes designers, construction supervisors, custom furniture and cabinet makers, and highly skilled finish-trim carpenters. Their professional and experienced team members also work with a number of local consultants and subcontractors to ensure that the client experience is a seamless process from concept to completion.
###