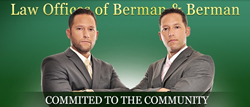 Cape Coral, Florida (PRWEB) May 01, 2013
Berman and Berman Law Offices has expanded, now offering legal representation to Cape Coral, as well as the entire state of Florida. The firm specializes in various types of legal cases within the state of Florida. These cases include, but are not limited to car accidents, personal injury, defective products and drug injuries. Visit their website at http://personalinjurylawyercapecoralfl.webs.com to inquire more about hiring the Berman Law Firm as a Cape Coral personal injury law firm.
Berman and Berman Law Firm has opened their doors to the citizens of Cape Coral, as well as the entire state of Florida. The dedicated attorneys are committed to the community and will fight diligently for their client's rights, representing the people, not the powerful. While utilizing aggressive techniques to obtain justice for their clients, they build a relationship of compassionate legal counsel for each of their clients.
Personal injury law is made up of a number of situations in which innocent people are forced to endure losses and unfair injuries. In the state of Florida, personal injury law is categorized as tort law. At Berman and Berman, the attorneys have devoted themselves, and their practice, to become the voice for victims, striving to obtain compensation for the loss or damage due to the fault or negligence of someone else.
Utilizing a team of highly skilled, energetic and experienced Cape Coral personal injury attorneys that are committed to providing superior legal services and achieving extraordinary results for victims of serious personal injury. This process is achieved by guiding each client personally through all the legal implications of any personal injury they may have experienced. The attorneys of Berman and Berman, put both the aspects of well-being, and compensation, as top priorities. It takes more than a fancy suit and shiny shoes to be an expert lawyer. The high pressure environment of personal injury law is constantly changing. Realizing this, The Berman Law Group builds each clients' case with detailed accuracy, as well as compassion.
To get in contact with the Law Offices of Berman and Berman they can be contacted at 1-(877) 529-8995 or by visiting their website found at http://lawyerinjuryaccident.com/. They are available 24 hours a day via email, phone, or live chat on their website. For help on any type of injury lawsuit in Florida, contact the Berman Law Group today.