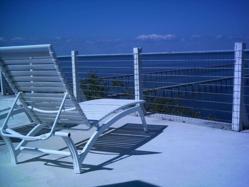 Cape San Blas Florida is a Nature Lovers Dream and a Fishermans Paradise www.bobzio.com
Cape San Blas, Florida (PRWEB) February 04, 2012
With spring approaching fast, seasonal vacations and weekend vacation rentals are being booked swiftly at all Bayrock Vacation Rentals. Bayrock still has availability for some periods in the spring and summer season and have launched a complementing promotion on their Facebook Fan Page offering a 10% discount on Bayrock 3 vacation packages.
After the first successful year in business, Bobzio.com's Bayrock Homes are launching new and improved listings on March 1, 2012 just in time for booking your Bobzio.com Bayrock home. The re-launch aims to deliver more photos and video while browsing the website and to encourage more visitors to enjoy the natural wonders of Cape San Blas, Florida.
The beautiful white sandy beaches and pristine waters of the St Joseph Bay consequently attract nature lovers, beach combers, kayakers, bikers and fishermen. They enjoy the quiet short vacations in one the dome homes available to rent. Bayrock also encourage school teachers, active or retired military personnel, firemen and policemen to take advantage of their 10% discount on rental fees. According to past clients, the management of bayrock Rentals "make vacation rentals a convenient and pleasurable experience". Bayrock Dome Rentals are perfect homes away from home and great places to just wind down.
One of the most popular Bayrock Vacation Rentals is Bayrock 1, partly because it is situated on the shores of the bay and partly because of the amenities it offers. It was the most rented facility through Bayrock Rentals in 2011 as it is a large bayside home well suited for groups of up to 10 guests. Their smallest property is Bayrock 3, and like Bayrock1, it has great amenities.
At present, the service manages three properties for lease. All allow pets and have air conditioning. According to Janaina, the company's manager, they "... personally oversee operations on every level from maintenance and housekeeping to rental and marketing ... providing a quality service to vacationers."
To get more out of the vacation, equestrians and beginners can ride horseback on the beach, rent bikes and take to the bike paths; enjoy a guided fishing trip, or rent kayaks or canoes. Visitors could potentially even spend a lazy afternoon playing golf at the nearby country club. There is also no shortage of eateries in the region, from casual dining to fast food.
To view Bayrock Rentals or to simply book a vacation, visit http://www.bobzio.com/World~mapsearch~Vacationrental~0. For further inquiries on current promotions and rentals, call Bayrock Rentals today.
About Bayrock Rentals:
Bayrock Rental makes homes available in the Cape San Blas Florida region. All bookings can be made on the website where one can view images of different Bayrock rental facilities, reviews left by vacationers and learn more about dome rental terms and conditions. Located at: Cape San Blas Florida.
###