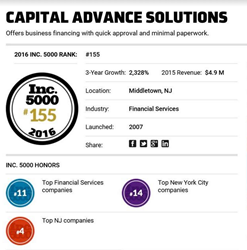 It's an incredible honor to be recognized for our success and growth. I think it's a sign that what we're doing to supply small and mid-sized businesses across the country with much-needed working capital is an explosive success
New York, NY (PRWEB) August 27, 2016
Inc. magazine ranked CAPITAL ADVANCE SOLUTIONS # 155 on its 35th annual Inc. 5000, the most prestigious ranking of the nation's fastest-growing private companies. The list represents a unique look at the most successful companies within the American economy's most dynamic segment— its independent small businesses. Companies such as Microsoft, Dell, Domino's Pizza, Pandora, Timberland, LinkedIn, Yelp, Zillow, and many other well-known names gained their first national exposure as honorees of the Inc. 5000.
"It's an incredible honor to be recognized for our success and growth. I think it's a sign that what we're doing to supply small and mid-sized businesses across the country with much-needed working capital is an explosive success," Capital Advance Solutions CEO Geoffrey Horn says. "Our listing at number 155 out of 5000 really means a lot to us, not to mention we placed at number 11 in Top Financial Services companies. The fact we are growing this quickly means our mission of providing sources of capital where needed most is really hitting home with a lot of business owners. This also comes at a time where we just broke through the $100 million dollars funded mark, a huge milestone for us."
"The alternative lending industry has made some real strides in recent years to become a more acceptable mainstream capital source for small business, for a reasonable premium they can get short-term working capital much quicker than traditional sources sometimes funded in the same day," Horn says. "We like to think of ourselves as part of the innovators in this space rather than the imitators."
"The Inc. 5000 list stands out where it really counts," says Inc. President and Editor-In-Chief Eric Schurenberg. "It honors real achievement by a founder or a team of them. No one makes the Inc. 5000 without building something great – usually from scratch. That's one of the hardest things to do in business, as every company founder knows. But without it, free enterprise fails."
More information about Capital Advance Solutions, please call 732-865-8050 or visit their website at http://www.capitaladvancesolutions.com.
About the Company
Capital Advance Solutions, a leader in alternative business financing, is dedicated to helping small businesses access the funding they need in the shortest possible time. Capital Advance Solutions offers a simple and streamlined funding process with flexible repayment options and affordable rates. In most cases, applicants are approved and funded within 48 hours. With minimal paperwork, businesses can procure working capital to purchase materials and supplies, manage payroll, or pay off existing debt and provide a cushion to foster growth. Capital Advance Solutions has been responsible for the deployment of over $100 million to more than 3,000 businesses and growing.