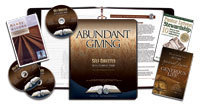 The big secret of capital campaign consultants is that there is no secret. All there is, are the best practices that have been developed by thousands of churches, and the wisdom of experience at how to apply them in any given church
Clayton, NC (PRWEB) April 28, 2009
AMI Church Consulting Services, a consulting firm specializing in church construction and capital campaigns, announces the launch of their Abundant Giving, Self-Directed Capital Campaign. Abundant Giving is a complete church capital campaign in a box providing an effective, yet lower cost, method of delivering capital campaign consulting.
A capital campaign addresses the two largest hurdles most churches face today when trying to qualify for a loan: adequate positive cash flow to service a loan, and adequate cash reserves. The current economic crisis has made it much more difficult for churches to qualify for a loan or mortgage. Today, more than ever, a capital campaign is a critical part of the financial plan for a church to build or relocate.
The vast majority of churches in America have less than 200 adults in attendance on any given Sunday, and many struggle with the high cost of capital campaign consultants. Larger churches, which can more easily absorb the cost, pay top dollar for consultants to guide the church through a process that is well and clearly defined, but unknown to the church. The evidence of this is found in the description of the process, and the results thereof, as provided by nearly every effective capital campaign firm; they all describe the same fundamental process, and get roughly equivalent results.
"The big secret of capital campaign consultants is that there is no secret. All there is, are the best practices that have been developed by thousands of churches, and the wisdom of experience at how to apply them in any given church," says Stephen Anderson, author of the book Preparing to Build and principal consultant for AMI Church Consulting.
The Abundant Giving, Self-Directed Capital Campaign provides a clear and detailed description of the process, stepping the church through the campaign week-by-week and task-by-task. In addition, this complete capital campaign in a box includes examples of other campaigns, sermons, Sunday school and small group studies, professionally designed campaign templates, and ongoing support from experienced capital campaign consultants; it is everything a church needs to have a successful capital campaign. More information is available at http://www.OurCapitalCampaign.com.
# # #