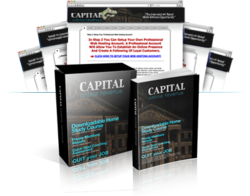 Bradenton, FL (PRWEB) June 09, 2011
Though business colleges remain in great supply, more and more Americans are turning to alternative sources of training and education, particularly during these days of economic upset and uncertainty. The simple truth is that with layoffs so prevalent and incomes so unsteady, investing in a full-time business education simply isn't a viable option for many entrepreneurs. Instead, they are looking to business training modules that allow for on-the-job training, providing a way to master the tools of the trade even while making a profit. Capital Online Revenue continues to spearhead this movement with the introduction of its new "earn-and-learn" business training techniques.
Different from both traditional business education courses and even other online endeavors, Capital Online Revenue is a service that extends to customers a wealth of resources for learning about online business. What makes Capital Online Revenue's services unique, however, is the fact that its training techniques are implemented in real-time. In other words, customers are both learning about online business and establishing their own online business both at the same time.
Though the notion of a make-money-online opportunity is hardly new, the methods being introduced by Capital Online Revenue are unlike anything yet devised by its competitors. What makes this service different is the emphasis it places on its training aspects. Though the long-term goal is for customers to establish their own online business, this comes hand-in-hand with an array of training resources and materials that include not only tutorial videos, but also a unique training component that includes one-on-one coaching from a team of live experts. Capital Online Revenue extends these services through a variety of media, including online chat, e-mail, and phone.
Capital Online Revenue's introduction of these features has already met with enthusiasm from its current customer base. The service continues to define its niche, appealing to retirees, stay-at-home-parents, and working professionals who simply lack the time or resources necessary to attend more conventional business classes.
ABOUT:
Capital Online Revenue is an educational system that provides individuals with the knowledge base and skill set they need to open and manage a successful online company. Through the support and valuable information that is provided, the system has become a respected resource for those looking to explore alternative employment options in lieu of securing a traditional position, allowing them to make a living on their own time and from their own home.
For more information about Capital Online Revenue visit http://www.capitalonlinerevenue.com.
# # #